Detalls del camp de treball
Botanical garden in mysterious Altai
Country:
Russian Federation
Topic:
10: Environment protection
Work Types:
Environment / Manual
Free places for Females:
0
Free places last update:
24 jul 2019
International age:
20 - 99
Extra fee to be paid in the hosting country:
2500.00 Russian Rouble
Purpose of extra costs:
Extra fee (around 30-35 EUR) will cover meals for participants and transfer for the excursion.
Required Language:
Anglès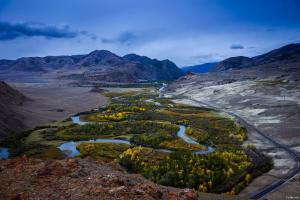 Description: Gorno-Altayskiy Botanical Garden was founded in 1994. It is located in the tract Clean-Meadow, in one of the most picturesque places, which was not chosen just by chance. Here are several natural and climatic zones meet, creating favorable conditions for the habitat of many species of plants. For many years already the Botanical Garden have invited volunteers for helping with current tasks, and in 2019 the first group of international participants is awaited. The Republic of Altai is a unique region in the heart of the Eurasian continent. The extraordinary beauty of the pristine nature, a huge variety of flora and fauna, glaciers, lakes and rapid mountain rivers are combined with the stunning culture of the peoples of Altai. Here you can discover a completely different Russia.
Type of Work: The main task of volunteers will be garden care (weeding, planting), collecting herbs. Approximately 6 working hours per day (in the morning and after lunch), with a weekend. All tools will be provided, but volunteers are kindly asked to bring their working gloves.
Study Theme: Volunteers will get to know the local culture, traditions, flora, learn a lot new medical herbs and how to use them. Excursions around the Botanical Garden is available. In your free time you can go to the river, walk around the village and make some hiking trips around. At the weekend, a trip along the stunning Chui tract will be organized. It is an ancient trade route on the border with Mongolia, which bears the proud title of the most beautiful Russian road. It winds through the valleys of seven rivers, between a dozen mountain ranges, crosses the Alpine steppes and passes.
Accommodation: Accommodation in the dormitory rooms for 2-3 persons. There are hot and cold water in the showers, organic toilets. Three meals a day are provided, cooked by a chef. It is simple country food that the locals eat, so do not expect a huge variety.
Requirements: Volunteers should be ready for manual work with soil and plants. The ability to admire unique Altai nature is mandatory!
Approximate Location: Kamlak village, Altai Republic. You should take a flight from Moscow to Gorno-Altaisk or make a really long journey on train and bus :) All participants will be met by host in Gorno-Altaisk and transfer back there from Kamlak at the end of the program.
Notes: Please keep in mind that round trip Moscow-Gornoaltaisk can cost around 300 EUR. It's highly recommended to buy tickets in advance!
Organization Description: Non-governmental and non-profit making organisation "Passage-Zebra" is active in Russia since 1998. Main fields of activities: international workcamps (in Russia), long-term volunteering in natural preserves and parks, study projects with language learning and teaching (including Russian language), building cultural bridges.