Conservation of ancient paths and discovery of an unusual valley in the Pyrenees
Country:
Spain - Catalunya
Topic:
10: Environment protection
Work Types:
Construction / Manual / Restoration, renovation
Number of places still available:
1
Free places last update:
18 set 2019
International age:
16 - 99
Required Language:
Anglès
Spoken Language:
Espanyol
Motivation letter:
This camp requires an additional motivation letter to explain in more detail why you would like to attend.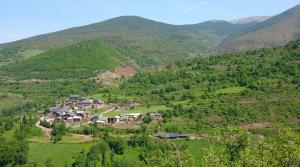 Description: The purpose of this workcamp is to recover and maintain the ancient paths of la Vall de Siarb, a particular and interesting valley in the heart of the Pyrenees. These paths were used during many centuries until 1960-70. They represent a huge heritage and we want to keep all of them in the valley as a museum.
If you like nature, trekking, teamwork and manual work this is your camp!
Type of Work: All kind of tasks regarding recover and improvement of old paths: cleaning paths, rebuild dry stone walls, improve signage with paint, improve pavement stretches of trails.
We spend all the working hours in the nature, surrounded by forests, fields, etc. The work is very manual and physical.
Study Theme: 1. Ancient shepherd paths in the Pyrenees
Idiosyncrasy of la Vall de Siarb
The big project: Paths museum of la Vall de Siarb
Use of the tools to maintain paths
How to find a path, dry stone wall technique,
Accommodation: Volunteers will be accommodated in the Refugi Vall de Siarb. A small hostel with bunk beds, toilets and showers, kitchen, dining room and a multipurposeroom. (have a look at: www.refugivalldesiarb.com)
Approximate Location: Llagunes, Lleida, Catalonia, Spain
Organization Description: SCI Catalunya is the Catalan branch of SCI, one of the 2 SCI branches in Spain. We are based in Barcelona and our working area covers the Catalan countries (including Catalonia, Valencia, the Balearic Islands and Andorra). The other provinces of Spain are covered by SCI Madrid. SCI was founded in 1982 and he organization works on both a global and local level. On the global level, we organize international workcamps in the above mentioned territory Long Term Voluntary Projects (including EVS), trainings and seminars. . On the local level, we work to promote peaceful social transformation of society in order to encourage sustainable human development and a culture of peace, through volunteer groups, involving our community and local networks.