Detalls del camp de treball
The Art and Environment Learning Camp
This project is part of the SCI North South Programmes. Volunteers should be 20 years old, have previous volunteering experience and take part in the Preparation Workshops organised by their sending branch. More details from your sending branch.

Topic:
10: Environment protection
Work Types:
Art / Environment / Restoration, renovation
Number of places still available:
11
Free places last update:
21 maig 2019
International age:
20 - 99
Extra fee to be paid in the hosting country:
80.00 Euro
Purpose of extra costs:
Activity costs
Required Language:
Anglès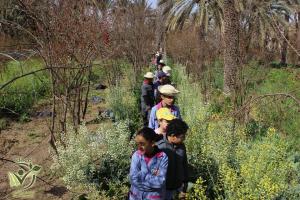 Description: This volunteer project will take place in a unique place of the Mediterranean area: the oasis of Gabès in Tunisia located between sea, mountain and desert. Dates, fruits, vegetables and forages are grown here. The volunteers will be able to immerse themselves in the lifestyle of an oasis.
Type of Work: The Art and Environment Learning Camp allows participants to share and learn about global and local issues through practice. The volunteers will do gardening, painting work and wall decoration, this work will be done in the neighborhoods with the inhabitants and also with national and local volunteers. This work will be in partnership with the youngster's house.
Study Theme: Culture and life of an Oasis.
Accommodation: All international volunteers would stay in bed and breakfast basic accommodation with electricity, hot water, shower, toilet, kitchen and bedroom
Language: English , French
Requirements: Volunteers must participate in activities related to camp operations, respect schedules, follow tutors' instructions, help clean up spaces used, participate in planned activities, respect night hours and participate in activities Recreation.
Approximate Location: Chénini-Gabès