Conservation of ancient paths and discovery of an unusual valley in the Pyrenees
Dates to be confirmed - apply later

Country:
Spain - Catalunya
Topic:
10: Environment protection
Work Types:
Construction / Manual / Restoration, renovation
Number of places still available:
15
Free places last update:
16 juny 2020
International age:
16 - 99
Required Language:
Anglès
Spoken Language:
Espanyol
Motivation letter:
This camp requires an additional motivation letter to explain in more detail why you would like to attend.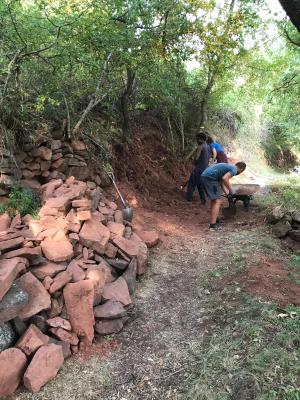 Description: If you like nature, trekking, teamwork and manual work this camp is for you! The purpose of this workcamp is to recover and maintain the ancient paths of Vall de Siarb, a very unique and interesting valley in the heart of the Pyrenees. These paths were used during many centuries until the 1960s-70s. They represent a huge heritage that is why we want to keep all of them in the valley as an open air museum.
During the workcamp, participants will discover the surroundings of the Valley of Siarb, get to know the geographical features of the Parc de l'Alt Pirineu and how to frame the valley in the Park, learn more about the region of Pallars Sobirà and its idiosyncrasies.
Type of Work: There will be all kinds of tasks regarding recovering and improving of old paths: clearing paths, rebuilding dry stone walls, putting stones aside, improving trail signs with paint and pavement stretches of trails. We spend all the working hours (4 hours) in the nature, surrounded by forests, fields, etc. The work is very manual and physical.
The project is flexible with the needs of the group, with flexible dates, amount of work, combination of activities.
Study Theme: Ancient shepherd paths in the Pyrenees Idiosyncrasy of la Vall de Siarb The big project: Paths museum of la Vall de Siarb Use of the tools to maintain paths How to find a path, dry stone wall technique,
The group can have ideas for other activities as there are different possibilities of leisure activities participants can enjoy in the area: cultural excursions, visits to the nearby villages, different trekking routes, or visiting medieval village, visits to bunkers and trenches from the Spanish Civil War.
Accommodation: Volunteers will be accommodated in the Refugi Vall de Siarb, in a small and cosy hostel with bunk beds, toilets and showers, the access to kitchen, dining room and a multipurposeroom. (have a look at: www.refugivalldesiarb.com)
The accommodation is located in the middle of a small village called Llagunes: it has 15 inhabitants and it is surrounded by nature (forest and fields). There are no shops and no bars in the village. The atmosphere is very calm and peaceful and if you come here you can breathe and feel all this.
Language: English, Spanish, Catalan
Approximate Location: Llagunes
Organization Description: SCI Catalunya is the Catalan branch of SCI, one of the 2 SCI branches in Spain. We are based in Barcelona and our working area covers the Catalan countries (including Catalonia, Valencia, the Balearic Islands and Andorra). The other provinces of Spain are covered by SCI Madrid. SCI was founded in 1982 and he organization works on both a global and local level. On the global level, we organize international workcamps in the above mentioned territory Long Term Voluntary Projects (including EVS), trainings and seminars. . On the local level, we work to promote peaceful social transformation of society in order to encourage sustainable human development and a culture of peace, through volunteer groups, involving our community and local networks.