Terra[cota] Patrimony - V
Topic:
11: Climate and sustainable lifestyle
Work Types:
Environment / Manual / Restoration, renovation
Free places for Males:
10
Free places for Females:
3
Free places last update:
11 feb 2021
International age:
18 - 30
Required Language:
Anglès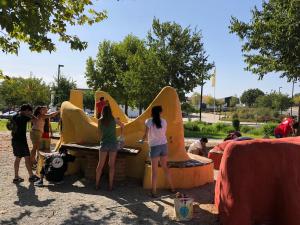 Description: This workcamp aims to awaken youth for the traditional building techniques and the surrounding built heritage. It is an Hands-on approach in ancient building techniques, specially lime mortars and plasters, with introductions to raw earth (adobe, rammed earth, CEB, earth plasters) and ceramics (modelling, raku firing, other firing techniques). During the camp we will act in public structures repairing, maintaining and co-creating new assets on these buildings, focusing on the Castle's Kiosk and Abancandrómo. Cooperation, communication, self esteem, problem solving, risk evaluation, leadership and decision making are competences that we will work together while (re)building for and with the local community.
Type of Work: The working environment is relaxed, in the heart of a strong artistic influenced city. Silkprint, ceramics, sculpture, play music, dance, electronics and new technologies,etc Work Activities: Learning how to apply and repairing traditional lime plasters and paintings; Applying reinforced waterproof membrane in OC facilities; introduction to traditional handmade fired and raw earth, clay preparation and application; Repair traditional terracotta brick structures (remove vegetation, cleaning and apply natural waterproof coatings like lime-wash); Cleaning and organize working areas and tools used during the activities; You will use tools like brushes, trowels, shovels, spatulas to perform tasks like painting, scratching, cleaning,mixing mortar, applying mortar, among other activities
Accommodation: Meals: breakfast, lunch, dinner. There will be vegetarian options/main courses. The lunch meals will be at the primary school canteen with option between meat/fish or vegetarian. The dinner is normally vegetarian. There is access to several shared kitchens around our facilities to prepare your snacks. Accommodation: in shared dormitory inside the old convent. We will us the bathhouse from our facilities. There is the possibility to use your private tent in case you prefer more privacy.
Requirements: Feeling like you can use your energy to achieve a collective goal. Being interested in building with your own hands and discover new materials and crafts. Being on time for the activities and respecting the silence during resting times (night and siesta). Feeling open to a collective living environment, where the space is shared with workspaces for artistic residencies.
Approximate Location: Montemor-o-Novo near Évora at the Center of Portugal in Alentejo Region