Eco-friendly and Sustainable Project in a Castle
Topic:
11: Climate and sustainable lifestyle
Work Types:
Environment / Manual / Restoration, renovation
Number of places still available:
3
Free places last update:
19 ag 2020
International age:
18 - 99
Required Language:
Anglès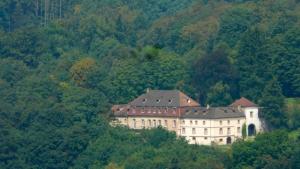 Description: The Langenberg castle is home for an environmentally-friendly oriented community. The castle stands in the middle of a forest in France, really close to the German border. The community welcomes French and German people, young people, older people, families or anyone who wants to join. The only rules is to be ready to live with respect and solidarity while taking care of the environment. The community seeks for a sustainable and environmentally-friendly lifestyle. In order to achieve that, they transform and build energy-efficient houses, they are growing a permaculture garden and many other activities. Furthermore, the community owns 3 horses and boards many others.
Type of Work: The volunteer will be part of every projects the community is running such as
creating and operating a permaculture garden
helping in the work at the stable
renovating the castle with a sustainable and environmentally-friendly approach
Building straw and clay houses (depending in authorization) All these projects are created and run by the community
Study Theme: Take part to the community project to make its lifestyle even more sustainable and environmentally-friendly. You will join a multicultural and multi generational group that shares the values of respect, solidarity and ecology. All the work is done with local and ecological firms. You will create and renovate buildings, take care of horses and be part of a community.
Accommodation: The volunteers will camp inside a building but insulation is bad. Therefore, they need to bring with a WARM sleeping bag, a pillow, etc. Toilets and showers will be available during the whole project.
Language: English will be the spoken language during the camp
Requirements: Be ready to live environmentally-friendly, to work and to share an amazing experience in this unique surroundings
Approximate Location: Wissembourg, near Strasbourg in eastern France, the castle is really close to the border with Germany
Organization Description: La branche française du mouvement, créée en 1936 et actuellement à Lille.