Mountain pasture and dry stone walls (Mauborget VD)
Topic:
10: Environment protection
Work Types:
Environment / Manual / Restoration, renovation
Number of places still available:
10
Free places last update:
05 ag 2020
International age:
18 - 99
Required Language:
Anglès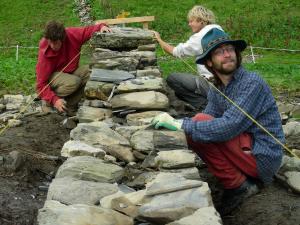 Description: Pro Natura is the oldest nature preservation organization in Switzerland. We love nature, defend its interests, and give it a strong voice.
Pro Natura Vaud (cantonal officer) takes care of about 160 protected biotopes. La Cruchaude is one of them. This reserve is a pasture managed with big respect for the environment (soils, flora and fauna), in collaboration with the farmer who has some cows here. A part of the spot is also a non exploited forest.
Dry stone walls stand through the pasture and are important corridors for the little wild animals. Moreover, they are remarkable landscape elements. These walls have to be restored as they are collapsing, and this is why we need volunteers.
These walls must be constructed according to a precise method and arrangement.
Type of Work: Dry stone walls restoration: -Disassembly of the wall, sorting and transport of stones, preparation of the foundations of the wall, help the professional builder
Help with other biodiversity measures, like water bodies digging or wooden constructions for flora protection
Help on the camp (daily tasks, food etc.)
Help the farmer if needed and depending on interest
Study Theme: Biodiversity and construction techniques.
Accommodation: The volunteers will be accomodated on site, in the chalet. There is only one common dormitory for everybody. It is also possible to sleep in tents if prefered. Mattresses will be provided. Please, bring your own sleeping bag. In the chalet there is a toilet, a shower and a kitchen. The amenities are basic and the comfort rudimentary. No washing machie is avalaible and there is no internet access on site. We will cook together.
Language: Local language is French
Organization Description: SCI Switzerland is a non-profit organisation which promotes intercultural exchange, sustainable development and non-violent conflict resolution. It has been organizing workcamps and long-term exchanges for volunteers worldwide since 1920. Each year more than 100 volunteers from Switzerland engage in SCI projects abroad, while around 200 international volunteers participate in projects in Switzerland. SCI Switzerland is certified by the Intermundo quality label, which guarantees high quality standards in youth exchange. Swiss workcamps are mainly focused on the work with youth as well as in the area of environmental protection. That is why among SCI Switzerland`s values is also an environmentally friendly lifestyle in accordance with the ideas of sustainable development. Volunteers are encouraged to be eco-friendly, especially when travelling to Switzerland and during the projects. Before applying be aware of high travel costs within Switzerland and check prices on the railway website www.sbb.ch. A participation in the camp from the first until the last day is needed for reason of instruction and group dynamic.