Eixarcolant - another food model system is possible. Horticulture and reconstruction in the orchards of Jorba.
Country:
Spain - Catalunya
Topic:
10: Environment protection
Work Types:
Agriculture / Environment / Manual
Number of places still available:
9
Free places last update:
05 oct 2020
International age:
16 - 99
Required Language:
Anglès
Motivation letter:
This camp requires an additional motivation letter to explain in more detail why you would like to attend.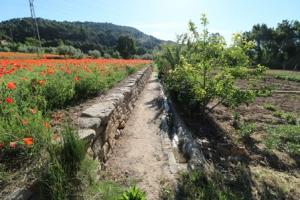 Description: Eixarcolant Collective is a non-profit organization whose aim is to transform the model of production, distribution and consumption of food towards a more sustainable and just. The methods we use to achieve it are conservation and growing of edible wild species and traditional crop varieties, providing training and dissemination, finding solutions and lifestyle alternatives through applied research, revitalization planning, awareness and advocacy.
There is no specific knowledge required apart from the willingness to learn about plants, crops and work in the countryside. If you are interested in nature preservation, alternative lifestyle, plants and crops cultivation, a well as you are into teamwork and manual work this is your camp!
Type of Work: The first part of project is the recovery and revitalization of orchards in Jorba, where volunteers will do tasks connected to the reconstruction such as preparing dry stone huts, opening old ways now lost. Participants will also have a chance to interact with children from local school and assist them in work related to maintaining green area. The second part of project is focused on the seeds of traditional crop varieties and wild species, where volunteers will assist in various tasks of plantation and growing of the crop species, also collecting the seeds and their subsequent processing.
Participants need to bring comfortable clothes to work in the field and appropriate footwear, as well as hat and sunglasses for the sun protection.
Study Theme: There will be several excursions and workshops where participants will acquire knowledge about ethnobotany applied to food and social transformation model, as well as volunteers will learn more how to make life more sustainable and resilient to climate change. During the workcamp, the host organisation will cover topics such as crop abandonment, rural depopulation, and food sovereignty.
Ethnobotany
Horticulture
Revitalization planning
Food production and consumption
Natural area restoration
Accommodation: Volunteers will be accommodated in a local comminuty space (mixed space), it is necessary to bring a sleeping bag. Volunteers will cook taking turns as they will take responsibility for doing the shopping which will be organized in groups and on shifts basis. Bearing in mind that it is a workcamp with the focus on sustainability, whenever possible, volunteers will be encouraged and advised to consume local foods from the market gardens or local stores. The diet will be mainly vegetarian thorughout the duration of the workcamp.
Language: Englis, Spanish, Catalan
Requirements: Volunteers are supposed to arrive on the first day of the camp and leave on the last day of the camp.
Approximate Location: Jorba
Notes: We are open to more local volunteers (from Catalunya and Spain) due to the restrictions of travelling from other countries to Spain.
Organization Description: SCI Catalunya is the Catalan branch of SCI, one of the 2 SCI branches in Spain. We are based in Barcelona and our working area covers the Catalan countries (including Catalonia, Valencia, the Balearic Islands and Andorra). The other provinces of Spain are covered by SCI Madrid. SCI was founded in 1982 and he organization works on both a global and local level. On the global level, we organize international workcamps in the above mentioned territory Long Term Voluntary Projects (including EVS), trainings and seminars. . On the local level, we work to promote peaceful social transformation of society in order to encourage sustainable human development and a culture of peace, through volunteer groups, involving our community and local networks.