Online Workcamp: "Contemporary Witnesses on Forced Labour in WWII'' Digital Workcamp with Augustaschacht Memorial, Georgsmarienhütte near Osnabrück.
Topic:
1: Antiracism, antifascism, remembrance
Options:
Wheelchair Accessible
Work Types:
Peace / Study, discussion, research
Number of places still available:
8
Free places last update:
15 oct 2020
International age:
18 - 99
Required Language:
Anglès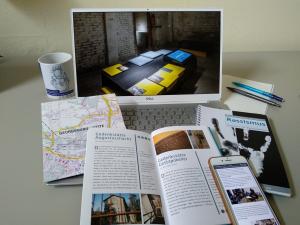 Description: For 20 years, an association of committed citizens has been working through the traces of forced labour under National Socialism and international prisoners in the then "Arbeitserziehungslager Ohrbeck" (AEL) - a Gestapo concentration camp - to redress the effects of forced labour. From January 1944 until the end of the war, more than 2,000 prisoners, including numerous people from the Netherlands and the former Soviet Union, had to work here for a steel factory, clearing rubble and clearing bombs. Many lost their lives in Gestapo custody. Most of the forced labourers came from the Netherlands and the Soviet Union. Their punishment also served as a deterrent for over 25,000 forced labourers in the Osnabrück region, half of whom came from the Ukraine, Belarus and Russia.
Type of Work: On the occasion of the 75th anniversary of the end of National Socialism and the war, the volunteers have the opportunity to make the stories of the often forgotten millions of forced laborers and the hundreds of thousands of AEL prisoners visible through. Together, they are preparing the story of a Ukrainian prisoner of AEL. They each write text fragments of a biographical interview with the former forced labourer, help with translations where possible, put the fragments together online and thus jointly trace the biography of this person in order to preserve it for the future. The joint project of the volunteers will be included in the memorial's exhibition and thus serve further documentary and educational purposes.
Study Theme: Using the concrete example, the volunteers will deal with forced labour and Nazi history as well as its causes and consequences. This year, the focus is on the contemporary witness interview with a Ukrainian forced labourer who experienced war and the Holocaust. The participants take part in digital tours of the Augustaschacht Memorial and its permanent and special exhibitions. If interested, the Gestapokeller Memorial can also be visited digitally.
Accommodation: Stay safe and healthy at home, save on travel costs, do something for the environment and meet other international participants in the digital space!
Language: Good knowledge of English required; knowledge of Ukrainian or Russian an advantage, but not a requirement.
Requirements: Volunteers must be open-minded, able and willing to participate in archaeological documentation, be open for new perspectives, interested in the topic and intercultural encounters, and speak good English.
Approximate Location: We will have an intensive kick-off event on the weekend 24.-25.10. on Zoom. Together with all participants, we agree on a format that accompanies their everyday life with work and studies and will have regular meetings in small groups and in plenary sessions over a period of 3-4 weeks. A final event after max. 4 weeks (22.11.2020 at the latest), depending on the timing of the individual meetings, will also take place on Zoom.
Notes: This year we have redesigned the volunteers' opportunities for participation in a special way as a digital offer. Please bring sensitivity for the memorial theme and interest in historical reappraisal and different perspectives. In addition to the study and work part, the digital international format offers the opportunity to exchange different historical perspectives and cultures of remembrance as well as an understanding of today's challenges.
Organization Description: This workcamp is organized by the German branch of Service Civil International (SCI). SCI Germany was founded in 1946 and is approved as a non-profit organisation. We are one of the oldest peace and volunteer organisations. SCI Germany aims to promote peace, non-violence, international solidarity, social justice, sustainable development and cross-cultural exchange through international voluntary work. We cooperate with a network of branches and partners in more than 90 countries. Every year, SCI Germany organizes about 50 international workcamps in Germany.