Art in a youth prisoners centre
Country:
Spain - Catalunya
Topic:
7: Children and youth
Work Types:
Manual / Social / Study, discussion, research
Number of places still available:
7
Free places last update:
22 set 2020
International age:
18 - 99
Required Language:
Anglès
Motivation letter:
This camp requires an additional motivation letter to explain in more detail why you would like to attend.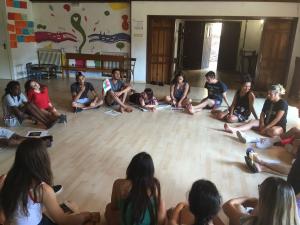 Description: This work camp will be held on a young prisoner's center. These young adults are between 18 and 25 years old. They are sociable, motivated and every day they're developing their personal, social and professional skills. Having international volunteers working directly with them has mutual benefits. From one side, beneficiaries will enjoy meeting new people, get heard, share their skills and talents. From the other side, volunteers will have the opportunity to question some of their stereotypes, be critical about the justice system and their own privileges.
Don't forget that it's a prison center. There are specific rules. We will send to you the center rules before the starting of the workcamp.
Type of Work: International volunteers will work on social and educational activities. The idea is to organize recreational and sports activities and various artistic and creative workshops, looking for more original and innovative proposals than are usually carried out. It will be a time to develop intercultural activities, share experiences and learnings. Volunteers can offer their knowledge by organizing interesting workshops. If you need extra material let us know in advance. Make it fun, creative and enjoyable for everyone. Volunteers and beneficiaries could possibly develop the activities together. The time of the activities in the center: Starts at 8.30h - ends at 14h. There is a possibility to organize afternoon activities.
Study Theme: Volunteers will have the chance to reflect and learn more about -social reintergration of (ex-)inmates -Spain's justice system -power relacions and intercestional (multiple) discriminations
Accommodation: Volunteers will sleep together at a community center. They have to bring a sleeping bag and also a mat. Between the community center and the prisoner's center there is 20min walking distance. We will NOT use public transportation. Food will be provided for free. There is a possibility to buy snacks. Lunches will be served at the prison. Special diet needs can be taken into account.
Language: English, Spanish Knowledge of Spanish language is considered an asset because it helps the direct communication with the beneficiaries.
Requirements: We are looking for open, responsible and very motivated people to participate in this workcamp.
Approximate Location: La Roca del Vallès, Granollers.
Notes: Volunteers will have an opportunity to buy a snack and bevereages in a canteen during their working hours. It will be paid by volunteers in case they want anything (2-3 euros). We are open to more local volunteers (from Catalunya and Spain) due to the restrictions of travelling from other countries to Spain.
Organization Description: SCI Catalunya is the Catalan branch of SCI, one of the 2 SCI branches in Spain. We are based in Barcelona and our working area covers the Catalan countries (including Catalonia, Valencia, the Balearic Islands and Andorra). The other provinces of Spain are covered by SCI Madrid. SCI was founded in 1982 and he organization works on both a global and local level. On the global level, we organize international workcamps in the above mentioned territory Long Term Voluntary Projects (including EVS), trainings and seminars. . On the local level, we work to promote peaceful social transformation of society in order to encourage sustainable human development and a culture of peace, through volunteer groups, involving our community and local networks.