Topic:
11: Climate and sustainable lifestyle
Work Types:
Agriculture / Environment / Restoration, renovation
Free places for Females:
5
Free places last update:
04 juny 2021
International age:
18 - 30
Required Language:
Anglès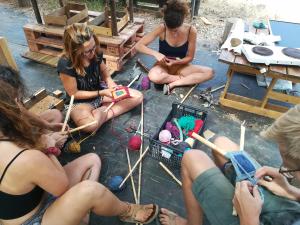 Description: Be part of the solution and help us take action to regenerate our ecosystems - Together, for the benefit of people and nature, we will be regenerating different local landscapes (Farmland, Freshwater areas and Forests) as a way of protecting and reviving our ecosystems. In the year that launches the UN Decade for Ecosystem Restauration, join us in this global mission to improve people's wellbeing, to help counteract climate change, and to help bring back more biodiversity.
Type of Work: Ecosystem Restoration Tasks: We will be propagating plants for the restoration of forest, agricultural and freshwater ecosystems; Improving agricultural production spaces that are in transition to organic farming; implementing reforestation; Improving and restoring an educational space with the creation of a wild life observation area. Awareness and training tasks: Creating media awareness material for ecosystem restoration; Creating and presenting awareness raising dynamics at Vivó Mercado (Market of local producers); Participating in collaborative exploration actions on key concepts on eco-social regeneration and ecosystem restoration, as well as sessions on the importance of the United Nations decade for the restoration of ecosystems.
Accommodation: Accomodation is in tents. Bring your own if you can, if you can't the project will provide one. There are bathrooms and solar showers. The project will provide 5 meals per day (breakfast; snack; Lunch; snack; dinner;), Our food ethics is based on following sequence: healthy, local and organic. As an Association that has programs for all ages, you can expect to share the space with children, youth and elders.
Requirements: Practical and warm clothes; practical and outdoor shoes (trainers, boots, flipflops, sandals); sun cream; insect repellant; torch; sleeping bag; small blanket; personal tent (is preferred); sun hat; small backpack; beach and shower towel; personal hygiene products; swimming suit or bikini; swimming shorts; musical instruments.
Approximate Location: Quinta do Vale da Lama, Odiáxere, Lagos, Faro, Algarve, Portugal