Topic:
12: Art, culture and local history
Work Types:
Archaeology / Manual / Restoration, renovation
Free places for Females:
7
Free places last update:
26 març 2021
International age:
18 - 30
Required Language:
Anglès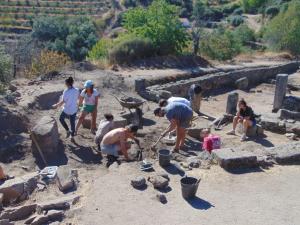 Description: The objective of this program is to give continuity to an archeological research project and the desire to turn the archeological place into a museum that has been developed since 1980
Type of Work: - Maintenance and restoration aiming at turning the archeological place into a museum;
Methodological digging, with an archaeologist help;
Soil riddling and floating aiming at collecting different elements (coals, seeds, bones …) for analysis;
Materials washing and labeling. During the camp volunteers will work no longer than 6h/day. In spare time volunteers will visit belvederes, castles, historical villages (Marialva), Vale do Côa engraving and Douro Wine Region (UNESCO Patrimonies).
Accommodation: volunteers will be accommodated at ACDR Youth Centre, composed of 2 dormitories and 8 rooms. Meals will be served in the youth centre restaurant
Requirements: Personal hygiene articles, towel, sun protector, bathing suit, hat, practical clothes and shoes for work and amusement.
Approximate Location: Freixo de Numão in Guarda District