Recovery of historical memory through art (Hostalric)
Temática:
12: Art, culture and local history
Work Types:
arqueología / Patrimonio cultural / Restauración, renovación
Número de voluntarios:
10
Plazas disponibles para hombres:
9
Plazas disponibles para mujeres:
10
Free places last update:
29 Jul 2021
Edad proyectos internacionales
18 - 99
Edad para proyectos nacionales
16 - 99
Idioma solicitado a los voluntarios
Inglés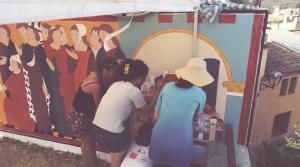 Descripción: Hostalric is a village in Catalunya with around 4000 residents. This workcamp was held in 2015 and it was a success, so it will happen again in 2016 aiming at the research, dissemination, preservation of the natural and historic heritage; intercultural exchange between the volunteers and villagers; raising awareness of the residents and neighbors about how important it is to value cultural heritage and also get to know volunteers from all over the World. More about Hostalric: http://www.turismehostalric.cat/en/index/benvinguda
Tipo de trabajo The volunteers will work on manual tasks, being part of an outdoors archaeological excavation and cutting branches and bushes around it to make it more accessible to visitors – either local or outsiders. A specialized archaeologist will coordinate all the work done by the volunteers.
Alojamiento: Volunteers will sleep in bunkbeds in the gymnasium of the local school, where they will have access to four showers and regular toilets. Both rooms and toilets/showers are divided by male and female. A cook will prepare dinners, but both breakfast and lunch need to be cooked by the volunteers and coordinator.
Organization Description: SCI Catalunya is the Catalan branch of SCI, one of the 2 SCI branches in Spain. We are based in Barcelona and our working area covers the Catalan countries (including Catalonia, Valencia, the Balearic Islands and Andorra). The other provinces of Spain are covered by SCI Madrid. SCI was founded in 1982 and he organization works on both a global and local level. On the global level, we organize international workcamps in the above mentioned territory Long Term Voluntary Projects (including EVS), trainings and seminars. . On the local level, we work to promote peaceful social transformation of society in order to encourage sustainable human development and a culture of peace, through volunteer groups, involving our community and local networks.