Recovery of wells and production of new feeders of birds and other animals (Castelldans)
Temática:
13: Community life
Work Types:
Mediambiente / Restauración, renovación / Social
Número de voluntarios:
10
Plazas disponibles para hombres:
4
Plazas disponibles para mujeres:
8
Free places last update:
06 Jul 2021
Edad proyectos internacionales
18 - 99
Edad para proyectos nacionales
16 - 99
Idioma solicitado a los voluntarios
Inglés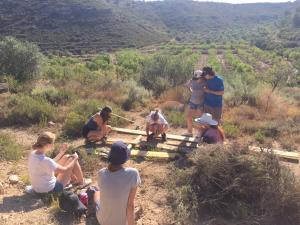 Descripción: The "Associació Amics de la Comanglora Espai Natural" is a non-profit organization that works 25 years in the field of education providing recreational activities for children and youth. We put in practice children's rights and try to promote youth participation in their immediate surroundings and in the whole social field. In the communitarian land of the Comanglora we organize summercamps and weekend excursions.
The tasks that will be done aim to improve the natural space of Comanglora by recovering the paths and the wells and by taking care of the fauna.
Tipo de trabajo Restore the ancient wells; both the access and the signs that they are there, so the water from the rain can be better channeled to the wells.
Create troughs (long, narrow open containers for animals to eat or drink out of) for birds
Tema de estudio: Visits on agriculture and livestock in the village (proposals): Oil museum Visit of cooperatives and farms Museum of the farmer Visit of Conreus, harvesting time Protected area "Melons"
Leisure time:
Activities to get to know the territory (proposals): Every afternoon we can enjoy the swimming pools of the town while meeting the neighbors of Castelldans Cultural visits Excursion to Lleida and dinner with the youth group Lo Portal Night of improvised camping
Alojamiento: Accommodation options: Sleep all together in a military tent in bunks or in tents of three people. In case of bad weather we have 4 activity rooms of 20m2 each. There are three individual toilets and two showers with hot water. There are also six outdoor showers. The meal will be mainly prepared by the cook of the camp and volunteers will be expected to help. Special nutritional needs (vegetarian, vegan, allergies, intolerances) will be taken into account. Please inform us.
Organization Description: SCI Catalunya is the Catalan branch of SCI, one of the 2 SCI branches in Spain. We are based in Barcelona and our working area covers the Catalan countries (including Catalonia, Valencia, the Balearic Islands and Andorra). The other provinces of Spain are covered by SCI Madrid. SCI was founded in 1982 and he organization works on both a global and local level. On the global level, we organize international workcamps in the above mentioned territory Long Term Voluntary Projects (including EVS), trainings and seminars. . On the local level, we work to promote peaceful social transformation of society in order to encourage sustainable human development and a culture of peace, through volunteer groups, involving our community and local networks.