Increïble sostenible - Can Pipirimosca
Temática:
11: Climate and sustainable lifestyle
Plazas disponibles para hombres:
7
Plazas disponibles para mujeres:
8
Free places last update:
19 Abr 2021
Edad proyectos internacionales
18 - 99
Edad para proyectos nacionales
16 - 99
Idioma solicitado a los voluntarios
Inglés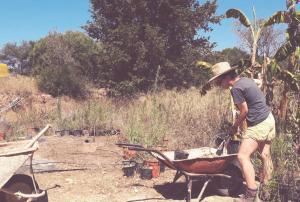 Descripción: Can Pipirimosca (located in Valls) is an organic farm where living in a more simple and sustainable way is part of the activism for caring of the environment. The project is nowadays focused as the headquarters to support activities in towns (transition town, urban gardens, free market) as part of the environmental activism. Can Pipi is a place based on permaculture principles. Deep ecology retreats take place to raise awareness.
Tipo de trabajo The tasks that will be carried out will be to consolidate resources and spaces in Can Pipirimosca and to support activities in the urban garden. These will be carried out in Can Pipirimosca and in different ecological farms. They can be tasks in the garden, recycling materials or enabling spaces, including also a visit and explanation of the project. The tasks for the activities of the garden, if the measures allow it, will be: construction of elements that are used, preparation of the space of the garden, elaboration of posters, preparing workshops, etc. If the situation permits, a fair will be organized. That is why these tasks will be necessary: assembly, doing the workshops, supporting the activities, kitchen of the fair itself, care for, monitor and help setting down.
Tema de estudio: Permaculture: Documentary screening, visit to the estate. Deep ecology: workshops and group dynamics. Cities in transition. In addition to these topics, we also plan to include other workshops or activities proposed by the volunteers
Alojamiento: The place to sleep is a room inside the house. There are many mattresses to put on the floor. Out of the house there are four toilets and five showers. The toilets are compostable and the composting of the feces is done in a hygienic and ecological way. The showers have solar hot water.
Organization Description: SCI Catalunya is the Catalan branch of SCI, one of the 2 SCI branches in Spain. We are based in Barcelona and our working area covers the Catalan countries (including Catalonia, Valencia, the Balearic Islands and Andorra). The other provinces of Spain are covered by SCI Madrid. SCI was founded in 1982 and he organization works on both a global and local level. On the global level, we organize international workcamps in the above mentioned territory Long Term Voluntary Projects (including EVS), trainings and seminars. . On the local level, we work to promote peaceful social transformation of society in order to encourage sustainable human development and a culture of peace, through volunteer groups, involving our community and local networks.