FESC - Fair of Economical Solidarity Catalonia
Temática:
3: International solidarity
Work Types:
Social / Tema de estudio del campo
Número de voluntarios:
10
Plazas disponibles para hombres:
10
Plazas disponibles para mujeres:
9
Free places last update:
04 Jun 2021
Edad proyectos internacionales
18 - 99
Edad para proyectos nacionales
16 - 99
Idioma solicitado a los voluntarios
Inglés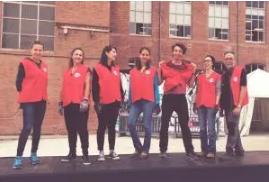 Descripción: The Solidarity Economy Fair of Catalonia is the time of year when all the entities in the field are grouped in the same space and debate on the role of another economy in Catalonia. At the same time, it means an extra workload. This is an opportunity for a good exchange between people interested in the movement of alternative economies and who can lend a hand in the assembly and sustainment of the X FESC
Tipo de trabajo The volunteers' tasks will consist of supporting the logistics of the Solidarity Economy Fair of Catalonia. For example: the preparation of the material, the assembly of the space, the distribution of materials and the disassembly of the Fair, among others.
Alojamiento: All of the participants will be accommodated in a volunteers' flat in the centre of Barcelona. The apartment has multiple rooms with bunk beds, multiple toilets, a kitchen and a common area.
Organization Description: SCI Catalunya is the Catalan branch of SCI, one of the 2 SCI branches in Spain. We are based in Barcelona and our working area covers the Catalan countries (including Catalonia, Valencia, the Balearic Islands and Andorra). The other provinces of Spain are covered by SCI Madrid. SCI was founded in 1982 and he organization works on both a global and local level. On the global level, we organize international workcamps in the above mentioned territory Long Term Voluntary Projects (including EVS), trainings and seminars. . On the local level, we work to promote peaceful social transformation of society in order to encourage sustainable human development and a culture of peace, through volunteer groups, involving our community and local networks.