Discovering the past through archeology I
Temática:
12: Art, culture and local history
Work Types:
arqueología / Mediambiente / Patrimonio cultural
Plazas disponibles para hombres:
13
Plazas disponibles para mujeres:
15
Free places last update:
22 Jun 2021
Edad proyectos internacionales
16 - 99
Edad para proyectos nacionales
16 - 99
Idioma solicitado a los voluntarios
Español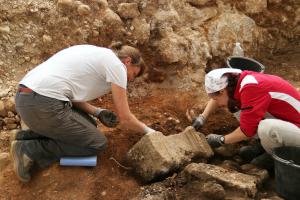 Descripción: We are the city council of Sant Martí Sesgueioles. This year we have started with the archaeological project of the municipality and we plan to excavate the castle of Vilallonga. Our primary objective is to recover the history of the municipality and to be able to articulate, together with nearby archaeological projects, the historical account of the area.
Tipo de trabajo Mainly tasks of excavation, drawing and washing of fragments. Practically all jobs are physical although there are drawing ones and others. The tasks apart from the archaeological works will be those carried out in a field.
Tema de estudio: On local heritage, it would be very nice to be able to make trips around. Climate change, renewable energies and the landscape problem it generates in our region (there are platforms in the area that can be invited)
Alojamiento: All common areas, with the exception of the pool shower space, will be located in the Factory, a multipurpose space of Sant Martí Sesgueioles. In this space there will be toilets, kitchen, common spaces and a room. The room will be a common space with bunk beds and enough space to accommodate the participants. It will be mixed, just like the two toilets. The toilets do not have a shower. However, we can go to the municipal pool that is 300 meters away to in order to shower. In this case the showers will not be mixed since the equipment of the pool has separate toilets.
Idioma: Spanish, Catalan, English
Ubicación Castell de Vilallonga (Sant Martí Sesgueioles)
Notas: Participants need to bring:
Sleeping bag / sheets Work clothes (fresh, breathable and short and long) Glasses, cutlery and plates Sunscreen and spray anti-mosquito Full toiletry bag Comfortable shoes, suitable for walking and resistant (boots or similar) Spare shoes Swimsuit and towel Optional Material for digging (peaks, shovels or whatever they consider they may need, anyway the field will have it for everyone)
Organization Description: SCI Catalunya is the Catalan branch of SCI, one of the 2 SCI branches in Spain. We are based in Barcelona and our working area covers the Catalan countries (including Catalonia, Valencia, the Balearic Islands and Andorra). The other provinces of Spain are covered by SCI Madrid. SCI was founded in 1982 and he organization works on both a global and local level. On the global level, we organize international workcamps in the above mentioned territory Long Term Voluntary Projects (including EVS), trainings and seminars. . On the local level, we work to promote peaceful social transformation of society in order to encourage sustainable human development and a culture of peace, through volunteer groups, involving our community and local networks.