Datos del campo de trabajo
Megalithic Village Camp I
Este campo es un campo de solidaridad Norte-Sur. Los voluntarios deben tener 20 añops cumplidos el día de comienzo del campo y participar en un ciclo de formación organizado por Servicio Civil Internacional. Más detalles en la pagina www.ongsci.org

Camp code:
ID-PKB 13.1903
Temática:
13: Community life
Work Types:
Trabajo con niños/as / Restauración, renovación
Número de voluntarios:
15
Plazas disponibles para hombres:
8
Plazas disponibles para mujeres:
7
Free places last update:
01 Nov 2018
Edad proyectos internacionales
18 - 99
Edad para proyectos nacionales
16 - 99
Costes adicionales:
220.00 Euro
Purpose of extra costs:
It will cover foods, accommodation, and local transport for project, IIWC T-shirt, certificate of participation, management fee and material for the camps.
Idioma solicitado a los voluntarios
Inglés
Motivation letter:
This camp requires an additional motivation letter to explain in more detail why you would like to attend.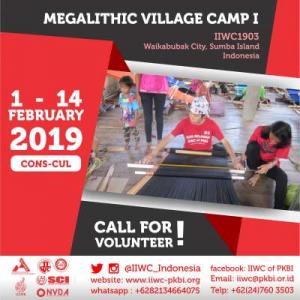 Descripción: A Megalithic Village Heritage Project is located in Prai Ijing Village of Sumba Island. Prai Ijing Village is a traditional village, where you can find traditional houses. In this village, we can find the uniqueness of the house with the structure of the building. The village has many stories and tradition that the local people still apply it However, the village needs more to set up the infrastructure and the community needs to manage their village to be clean as well. Also, since many visitors are foreigner, the local could not explain the beauty of their culture in English.
Tipo de trabajo Set up the infrastructure of the village, Waving and making handicraft with local mothers, village maping, helping the local feeding their animals, and also visiting the local school nearby the village.
Alojamiento: The volunteers will stay in a traditional house together with local people with a shared toilet and bathroom. The location is Prai Ijing Village, West Sumba Regency.
Organization Description: IIWC (Indonesian International Work Camp) is one of PKBI (Eng: Indonesia Planned Parenthood Association) program who deal with IVS movement since 1999.