Datos del campo de trabajo
Este campo es un campo de solidaridad Norte-Sur. Los voluntarios deben tener 20 añops cumplidos el día de comienzo del campo y participar en un ciclo de formación organizado por Servicio Civil Internacional. Más detalles en la pagina www.ongsci.org

Camp code:
ID-PKB 12.1908
Fecha inicio campo:
08 May 2019
Fecha finalización campo:
21 May 2019
Temática:
12: Art, culture and local history
Work Types:
Cultural heritage
Número de voluntarios:
12
Plazas disponibles para hombres:
6
Plazas disponibles para mujeres:
6
Free places last update:
02 Nov 2018
International age:
18 - 99
Costes adicionales:
180.00 Euro
Purpose of extra costs:
The cost will cover the accomodation, Food, Material of the project, IIWC-Tshirt and Certificate of participation.
Required Language:
Inglés
Motivation letter:
This camp requires an additional motivation letter to explain in more detail why you would like to attend.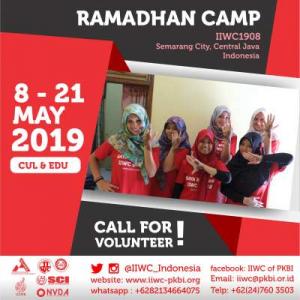 Descripción: Ramadhan Camp – Ramadhan is a part of moslem life in Indonesia, it is such a special month for moslem around the world and so is for Indonesian moslem. Ramadhan Camp will emphasize an introduction of Muslim culture in Indonesia especially about
Tipo de trabajo Teach the orphans about cleanliness and create fun atmosphere for them while they are practicing to fasting. Volunteer will do some daily activity with local community such as cooking, cleaning, and learning how local community doing their worship during Ramadan.
Alojamiento: Fatimatuzzahro orphanage room with shared toilet and bathroom, sleeping bag and mattress needed, and self-cooking.
Idioma: English
Ubicación Fatimatuzzahro orphanage which located in Semarang city Central Java Indonesia.
Organization Description: IIWC (Indonesian International Work Camp) is one of PKBI (Eng: Indonesia Planned Parenthood Association) program who deal with IVS movement since 1999.