Datos del campo de trabajo
Este campo es un campo de solidaridad Norte-Sur. Los voluntarios deben tener 20 añops cumplidos el día de comienzo del campo y participar en un ciclo de formación organizado por Servicio Civil Internacional. Más detalles en la pagina www.ongsci.org

Temática:
12: Art, culture and local history
Work Types:
Arte / Patrimonio cultural / Social
Number of places still available:
2
Free places last update:
09 Dic 2018
Edad proyectos internacionales
18 - 99
Edad para proyectos nacionales
16 - 99
Costes adicionales:
220.00 Euro
Breakdown:
Accommodation and food: 0.00 Euro
Transportation: 0.00 Euro
Activities: 0.00 Euro
Hosting organisation support: 220 Euro
Purpose of extra costs:
The work camp participation fee is strictly Euro 220 and this covers simple accommodation, food and project expenses office running/administrative expenses, certificate of participation during the camp, communication prior to, during and after the camp. Please note that this does not include travel expenses to and from the camp, pick up from airport so participants are asked to reserve a small amount of money for transport to the camp and vice-verse. We advise all volunteers to ask for advice from us when they are planning to book their ticket to Pretoria.
Idioma solicitado a los voluntarios
Inglés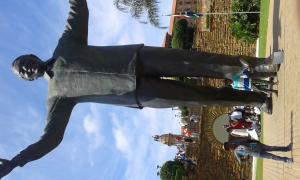 Descripción: Building a strong cultural identity, common heritage, shared values and ethics with youth driven and African history celebration
Tipo de trabajo The Heritage Month celebration will require volunteers to be involved in arts and cultural activities such as learning local South African arts and cultural activities and sharing their own cultural and values from their respective countries.. Volunteers will work in groups and will be able to share each day and cook their local traditional food and teach children cultural and artistic activities and games.
This is an exciting project as volunteers have opportunity to work with different communities and interact with children in cultural and arts activities in the community.
Tema de estudio: A great opportunity to interact with youth from around the world and community in Pretoria CBD and learn of the strong African Cultural identity, heritage and shared values and ethics that youth in South Africa experience. This is a Heritage experience that the youth would not afford to miss out on.
Alojamiento: Accommodation will be in a hall and venue still to be confirmed both in Pretoria. Participants will be required to bring their own sleeping bags. The accommodation has a simple bathroom with shower and there is running water. The accommodation and work place have flushing toilets and do have electricity.
Idioma: The community has multi-cultural people and English is mostly spoken with local languages such as Ndebele, Zulu, and other local languages
Requisitos: The Weekend is meant to be for free tours that the group can organize by themselves. All our work camps are reserved for cultural nights when each volunteer can present her/his country and culture.
Notas: Open minded, ready to interact with other people of different cultural background - Positive attitude - Willing to share his/her experiences - Flexible to live/stay in simple living conditions - Flexible to eat local food - No experience needed at all. Willingness to guide students especially in cultural and arts activities Weekend will have excursions with volunteers to different areas of Pretoria.