Datos del campo de trabajo
Camp code:
JP-NIC 13.1902231
Temática:
13: Community life
Número de voluntarios:
13
Plazas disponibles para hombres:
2
Plazas disponibles para mujeres:
3
Free places last update:
30 Ene 2019
Edad proyectos internacionales
18 - 99
Edad para proyectos nacionales
16 - 99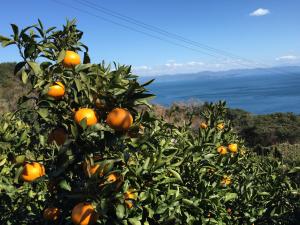 Descripción: Organized together with Kikuya Community Group (KCG), formed by the local young people to think of the future of their small village, since 2008. Ikata is famous for oranges farming, but has been facing depopulation, lack of workers and aging society since most of young people leave the town. So, the number of abandoned orange farms is increasing and the town is losing its tradition, life, custom and scenery. KCG strongly hopes to host vols. to work together to animate the town and revive the farms.
Tipo de trabajo We will help orange farming such as harvesting, taking care of trees, cutting grass etc.. We will separate into 5-6 groups to help different farms. Work is physically hard from early morning to evening. We will also visit school to organize class for international interact.
Tema de estudio: Volunteers will get knowledge of agriculture, especially about mandarins.
Alojamiento: Volunteers will stay in old traditional house. Meals will be cooked by volunteers by turns.
Idioma: English (Japanese is welcomed since local people speak only in Japanese.)
Requisitos: Interested in agriculture, high motivation to speak Japanese with local people
Ubicación In the edge of Sata Peninsula, surrounded by the sea, so fishing is also famous. There are only 30 houses in this community. The climate is relatively warm though it can be cold in winter.