Datos del campo de trabajo
Festival Cultural and Batik (Festival Kékéli, 4ème édition)
Este campo es un campo de solidaridad Norte-Sur. Los voluntarios deben tener 20 añops cumplidos el día de comienzo del campo y participar en un ciclo de formación organizado por Servicio Civil Internacional. Más detalles en la pagina www.ongsci.org

Temática:
12: Art, culture and local history
Número de voluntarios:
20
Plazas disponibles para hombres:
10
Plazas disponibles para mujeres:
10
Free places last update:
24 Ene 2019
Edad proyectos internacionales
18 - 99
Edad para proyectos nacionales
18 - 99
Costes adicionales:
200.00 Euro
Breakdown:
Accommodation and food: 0.00 Euro
Transportation: 0.00 Euro
Activities: 0.00 Euro
Hosting organisation support: 200 Euro
Purpose of extra costs:
The 200€ paid by the volunteers will be used in this following way: - 2/3: organization of the workcamp (accomodation, food, water, materials, transports) - 1/3: administration fees
Idioma solicitado a los voluntarios
Francés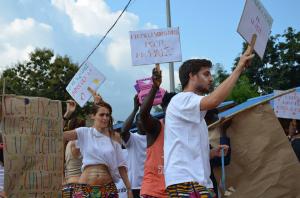 Descripción: Initiated since 2016 by the NGO ASTOVOT, the Kékéli Festival is at its 4th edition this year. This festival is a vehicle of valuing the Togolese culture in all its diversity through the artistic and folk groups of the soil. This year's edition is under the theme "Woman and local development". In Togo, women's engagement has a very important dimension in the socio-economic development of their communities. This project highlights female leadership in local governance and encourages women to become more involved in local development actions. As usual, various folkloric groups will take care to value women in all its dimensions. It will also have other cultural activities around the theme of this edition namely: fashion show in traditional dress, sketches, Batik, public places safety ... etc.
Tipo de trabajo The first phase: reflection and awareness-raising around the theme (animation-discussion, study visits-meetings of local actors, conference-debate, mobilization action
Organization of workshops around the theme of publishing (local development actors, associations, groups or women's cooperatives ...);
Batik workshops;
Sketch editing around the theme;
Health action in the village (public places)
Accompany the artistic and folk groups in the preparation of the festival
Organize the festival: logistics, communication media design, sound system, installation The second phase: Organization of the festival: logistics, communication media design, sound system, installation
Arrangement of the room or place of the show
Installation of awareness stands
Tema de estudio: GOALS OF THE PROJECT
Organize of cultural and artistic activities for women as an actor of local development;
Promote local artistic and folk groups by offering a framework of expression designed to raise awareness on a theme of female leadership and enhance their talents;
Develop national and international voluntary intercultural exchanges;
Alojamiento: Housing conditions are generally primitive. The volunteers will be housed together in the same house with several rooms (usually 2 to 4 rooms) and will live near the project site. Housing will be provided with plastic mats or straws but volunteers can however provide small inflatable mattresses or small floor mats (no bed), sleeping bag, mosquito nets etc. The kitchen will be organized by the volunteers themselves. FOOD
Volunteers will cook and eat together their meals. In the kitchen, they will use the local products. There are many various vegetables and fruits in location.
Idioma: The languages of the workcamp are English and French. But it's important to note that the exchanges in English are very basic.
Ubicación Located 15 km from the city of Kpalimé and 135 km northwest of Lomé, the capital of Togo. The village of Tomégbé has about 5500 inhabitants. It is a village that is located in a mountainous area with a very beautiful view. It is so popular with its green aspect and its waterfalls. The inhabitants of the village are very hospitable and mostly farmers who mainly grow cocoa, coffee, maize, cassava and yam. The dominant religion is Protestantism, introduced at the end of the 19th century by Pastors from Bremen, Germany. In addition to College , the village has two primary schools and a dispensary.
Notas: NB: Clean drinking water available.
Internet access and electricity are limited according to the areas of intervention of the projects. HOBBIES Apart from the activities to be carried out on the building site, you can enjoy walks, meetings with the particularly welcoming population, organize parties and excursions to visit the surrounding villages.