Datos del campo de trabajo
Berlin Still Spring: Winter Sleep Is over - Wake u
Temática:
12: Art, culture and local history
Work Types:
Manual / Restauración, renovación
Número de voluntarios:
10
Plazas disponibles para hombres:
2
Plazas disponibles para mujeres:
0
Free places last update:
16 May 2019
Edad proyectos internacionales
18 - 99
Edad para proyectos nacionales
18 - 99
Idioma solicitado a los voluntarios
Inglés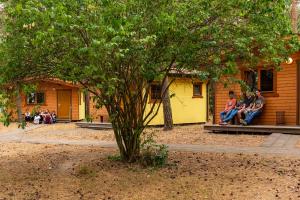 Descripción: The VJF (Union of young volunteers) was founded in March 1990 and is an officially recognised non-profit association for organising youth works, with the aim to expand the idea of international voluntary movements.The Association organises international youth meetings with short-term projects (workcamps) and long-term projects (European Solidarity Corps, weltwaerts) and takes part in the responsibility considering the engagement in the Voluntary Ecological Year within a period of one year.More to that, the VJF covers a project and meeting place/ seminar centre in the outskirts of Berlin, where this workcamp will be accomodatet and work.Every year we organise around 30-35 international workcamps and bilateral projects in Germany.
Tipo de trabajo During this camp we need to prepare our centre for the next workcamp season. The centre needs cleaning works like raking dead leaves, cleaning the yard or piling up the leaves.You will need waterproof clothes in case of bad weather. Other small tasks during the camp may include maintaining or renovation works inside and outside.
Alojamiento: You will live at the centre in bungalows. You wont bring a sleeping bag with you, bed linen will be provided. There is no washing machine and only limited internet access in the centre.You will have the chance to prepare your own meals in a small kitchen at the centre. Please bring your own recipes for our international evenings.
Idioma: eng,
Requisitos: Dont forget to bring strong shs, working clothes, working gloves, lots of warm clothes (it might still be cold in Berlin), towels and toiletries and anything for entertainment. Please also bring a torch with you. This will be necessary for the path to the Krimnitzer Weg. You dont have to bring a sleeping bag, a roll mat or bed sheetsPlease be aware that the place is a bit far away from the city and it wont be possible to go to the city every day (For individual trips you have to pay yourself)It is advisable to have International Student card (ISIC) to get reductions on local transport, museums, etc.
Ubicación You will live in the Projekt- und BegegnungsstEtte . This is the meeting and project centre of the Union of Young Volunteers (VJF). It is situated in a forest on the banks of the lake Langer See in Berlin. Its a quiet place, a bit far from the centre of Berlin (but there are good public transport connections). The centre is used for our own or partners seminars and workshops, as accommodation for different groups of young people and a sort of holiday resort for school classes.This will be decided in accordance with the groups wishes. You can use the facilities at our holiday centre to play sports (volleyball, table tennis). Of course you will be able to enjoy the sights and culture (theatres, clubs...) of Berlin and go for an excursion to Potsdam.