Datos del campo de trabajo
Primary School Toilet Facility
Este campo es un campo de solidaridad Norte-Sur. Los voluntarios deben tener 20 añops cumplidos el día de comienzo del campo y participar en un ciclo de formación organizado por Servicio Civil Internacional. Más detalles en la pagina www.ongsci.org

Temática:
13: Community life
Work Types:
Contrucción / Manual
Número de voluntarios:
15
Plazas disponibles para hombres:
7
Plazas disponibles para mujeres:
8
Free places last update:
05 Feb 2019
Edad proyectos internacionales
18 - 99
Edad para proyectos nacionales
16 - 99
Idioma solicitado a los voluntarios
Inglés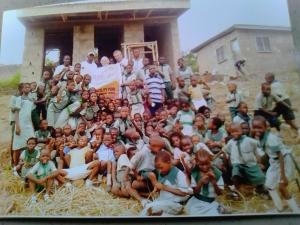 Descripción: Papa Community Primary School is located at Orimerunmu Commuity Development Centre of Ibafo Local Government, near major Inter-State Express way. The Primary school lacks hygenic toilet facility and work already started last year by the support of Irish group to provide Toilet house with some materials. The construction and rehabilitation of school continues with provision of chamber and other facility through IVS service. There will also be a small campaign on promotion of environmental sanitation exercise within the community.
Tipo de trabajo Digging the Toilet Chamber. Plumbing the toilet and erection of zinc basins, Raise public awareness on personal and environmental hygiene in Academic environment. School based hygiene and sanitation clubs. Stimulating the formation of various youth clubs connected to community development.
Tema de estudio: Healty Living & Sustainable Environment
Alojamiento: Near the School project, volunteers will stay together in Accommodation provided in a School classroom within the project community or Guest Houses. There are latrines and bathrooms and cooking will be done in turns.
Idioma: Fair knowledge of English
Requisitos: Working clothes, tents, mosquito nets, charts / books, tools and gloves, mosquito repellant lotion, sleeping bag. Games like chess, playing cards and musical instruments are welcomed.
Ubicación The workcamp will hold at Papa New Settlement in Ibafo LCDA, close to Lagos-Ibadan Expressway in Ogun State
Notas: Kindly ensure that you obtain necessary Visa before departure and also for all categories of volunteers certified Insurance registration is important.