Datos del campo de trabajo
Itinerant Project to Support Environmental and Artistic Local Initiatives
País:
Belgium - French speaking
Temática:
11: Climate and sustainable lifestyle
Work Types:
Agricultura / Arte
Number of places still available:
1
Free places last update:
06 Ago 2019
Edad proyectos internacionales
18 - 99
Edad para proyectos nacionales
18 - 99
Idioma solicitado a los voluntarios
Inglés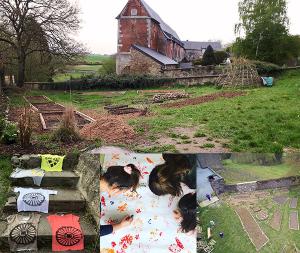 Descripción: The GAL or « Groupe d'Action Locale » of l'Entre-Sambre-et-Meuse puts forward an itinerant volunteer project that aims to support different local initiatives in the region of l'Entre-Sambre-et-Meuse in Belgium. The principal goal of GAL is to realize diverse projects related to agriculture, environment, local employment and social cohesion. This is a traveling project allowing the volunteers to discover different local initiatives carried out by the citizens. For example "The chatting gardens of Brogne" is communal garden arranged by and for the locals with fruit trees, vegetable crops , and many other brilliant ideas. Its purpose is to promote and foster gatherings, sharing, etc. The group will also get involved in the cultural centre of Walcourt
Tipo de trabajo Firstly, the volunteers will help the community of « The Chatting Gardens of Brogne (Les jardins papotes de Brogne) » to work in their communal garden. The group will work also in the maintenance of the vine of the Chatting Gardens.Finally, in the third phase of the workcamp, the group will help the staff of Centre Culturel de Walcourt with small tasks of maintenance. Finally the volunteers will give a hand with all the preparations for « La Fête du Parc », which is a celebration of art, expression and creativity that includes concerts and animations. The volunteers will provide and extra help with logistics and will have the possibility of attending all of these proposed activities.
Tema de estudio: Citizenship and the idea of a better living while respecting Nature.
Alojamiento: In a house in Berzée.
Idioma: English but basics in French are always welcome in order to talk to the locals.
Requisitos: Having an interest in working outdoors and cultural activities.
Ubicación In the communes of Brogne, Gerpinnes, Gourdine and Walcourt, in the Province of Namur (South of Belgium), between the cities of Namur, Dinant and Charleroi.The group will have the opportunity to relax at the Lac de Bambois.