Datos del campo de trabajo
Este campo es un campo de solidaridad Norte-Sur. Los voluntarios deben tener 20 añops cumplidos el día de comienzo del campo y participar en un ciclo de formación organizado por Servicio Civil Internacional. Más detalles en la pagina www.ongsci.org

Temática:
12: Art, culture and local history
Work Types:
arqueología / Arte / Festival
Número de voluntarios:
15
Plazas disponibles para hombres:
7
Plazas disponibles para mujeres:
8
Free places last update:
05 Feb 2019
Edad proyectos internacionales
18 - 99
Edad para proyectos nacionales
16 - 99
Costes adicionales:
250.00 Euro
Breakdown:
Accommodation and food: 0.00 Euro
Transportation: 0.00 Euro
Activities: 0.00 Euro
Hosting organisation support: 250 Euro
Purpose of extra costs:
Preparations, Feeding, Accommodation, On-arrival orientation, Evaluations, Mobility to the Camp site and maintenance of volunteers in the project
Idioma solicitado a los voluntarios
Inglés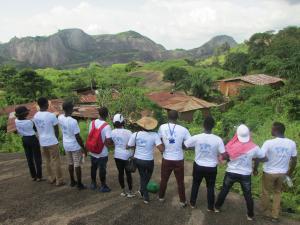 Descripción: Oke Idanre Hill consists of high plain with several spectacular valleys interspersed with inselbergs of about 3,000 ft above sea level. Its physical attributes include Owa's Palace, Shrines, Old Court, Belfry, Agboorogun foot print, thunder water (Omi Aopara) and burial mound and ground. It also has diverse and variegated eco-systems of flora and fauna. Oke Idanre contains very important bio-physical and land from features whose interaction with the physical features created an enduring cultural landscape within the setting.
Tipo de trabajo VWAN history of engagement in World Heritage Volunteers campaign started in 2010 when a group of local and international volunteers were led to Idanre Hill to commit to restoration work at the old courtyard and tree planting on the site. In 2017 WHV action focuses the work on construction of concrete chairs around the old primary school. Local materials that will also reflect traditional fittings to the heritage will be used. Local awareness through Non Formal Education will be applied through the various Workshop activities on the camp within the community. Volunteers will do self-catering and living together in the camp. Volunteers should be ready to mix up with the community and various youth groups during intercultural sessions.
Tema de estudio: CULTURAL WORLD HERITAGE PROJECT
Alojamiento: Living will be in a mini apartment provided by the Community within the project. The mini-guest house has moderate facility with cooking equipment and toilet facility including bathrooms. The house will accommodate up to 25 volunteers at a time.
Idioma: Fair knowledge of English
Requisitos: There will be social nights and cultural weekends. Intercultural activities to exhibit different cultural habits will be in vogue. Please kindly come with Music, Games and other local materials to exhibit during the workcamp (if available but not compulsory).
Ubicación The project is located at Odode Town in Idanre Community area of Ondo State. Volunteers will depart from Lagos together for the project. There is no extra cost for this travel.
Notas: Volunteer shall also enjoy pick up / return to the Airport without any extra cost. However, volunteers that wish to arrive earlier before the project should notify the organization and provisions shall be made to receive the volunteer.