Datos del campo de trabajo
Temática:
12: Art, culture and local history
Work Types:
Arte / Festival / Patrimonio cultural
Número de voluntarios:
10
Number of places still available:
0
Free places last update:
23 Ago 2019
Edad proyectos internacionales
18 - 99
Edad para proyectos nacionales
16 - 99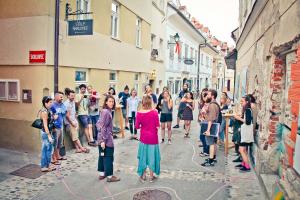 Descripción: Film Mixer camp welcomes artists, analog photographers and creative people to participate in developing stop motion movie about France Štiglic, one of the most important Slovenian film directors and the only one, whose movie was nominated for Oscar film award. In the cultural district of city Kranj, which was his home town, participants would help to enlighten his film heritage and try to represent long forgotten techniques in a new, innovative way. The camp will be a part of film festival Film Mixer organized by Layer House, centre of art and culture, as well as an artist-in-residency centre. The main objective of the camp is to teach younger generations about the forgotten techniques, encourage them to use it in an innovative way and to represent film heritage of France Štiglic.
Tipo de trabajo Work will consist of work organization, preparing the place for exhibition, participating in workshops, making Camera obscura and photo exhibition, making a short animated film in stop motion technique, artistic interventions, research of Štiglic' film heritage and representation of a local cultural heritage.
Tema de estudio: Film, analog techniques, Camera obscura, stop motion animation
Alojamiento: Layer House - Painters's house - today a cultural center with exhibition grounds and artist-in-residency center will host the volunteers. They will be organized in two rooms with 10 beds and 1 kitchen. The volunteers will prepare food by themselves.
Requisitos: Highly motivated volunteers with a sense for self‐initiative at work, especially with creative work, and with high interest in photography, film and analog film techniques.
Ubicación Layer House, Kranj, Slovenia
Notas: Film festival of independent film Film Mixer is taking place at the time of the camp. Volunteers are welcome to share their film and video knowledge, organize workshops etc. Video and photo equipment are desired.