Datos del campo de trabajo
Temática:
12: Art, culture and local history
Work Types:
Contrucción / Manual / Restauración, renovación
Plazas disponibles para hombres:
1
Plazas disponibles para mujeres:
0
Free places last update:
09 Sep 2019
Edad proyectos internacionales
35 - 99
Edad para proyectos nacionales
35 - 99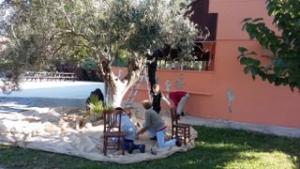 Descripción: This workcamp is a special one for people over 35 years old. Afacan Youth House www.afacan.de is a place where GHD runs voluntary workcamps for disadvantaged youth and children, disabled people, teenagers and kids. In order to supply annual olive and olive oil stocks, the center will host volunteers to pick up and process olives from the garden.
Tipo de trabajo Volunteers will collect olives from the trees, separate according to quality, pack, make stripes on olives, etc. There is a chance to see olive oil making process in a factory. As the youth center will be shut after this camp the volunteers will be asked to help to carry goods and some cleaning work as well as part of their daily work.
Alojamiento: A: In the youth center, in double rooms with toilet and shower. F: Will be supplied at the center.
Idioma: eng,tur
Requisitos: Minimum Age: 35
Ubicación Yenisakran is by the Aegean Sea, in west of Turkey. The next city is Izmir. Work camp site is safe and secure.