Datos del campo de trabajo
Immersion in a farmers' cooperative in Senegal
Este campo es un campo de solidaridad Norte-Sur. Los voluntarios deben tener 20 añops cumplidos el día de comienzo del campo y participar en un ciclo de formación organizado por Servicio Civil Internacional. Más detalles en la pagina www.ongsci.org

Temática:
13: Community life
Work Types:
Agricultura / Mediambiente / Social
Número de voluntarios:
10
Number of places still available:
9
Edad proyectos internacionales
20 - 99
Edad para proyectos nacionales
20 - 99
Costes adicionales:
150.00 Euro
Breakdown:
Accommodation and food: 0.00 Euro
Transportation: 0.00 Euro
Activities: 0.00 Euro
Hosting organisation support: 150 Euro
Purpose of extra costs:
The extra-cost covers food and accomodation during the stay but doesn't include accommodation in Dakar (+/- 40 euros/night) and transportation (+/-75 euros).
Idioma solicitado a los voluntarios
Francés
Idiomas del campo
Francés
Campo en el que se aceptan niños
Sí (Minimum age: 0)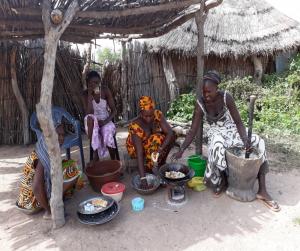 Descripción: "Les Ententes" is a non-governmental organization created by farmers and dedicated to the village communities. The association, which promotes an economical alternative, aims at providing educational work, reducing inequalities among villagers and slowing down the migration flow towards big cities. There are farmers belonging to the cooperative "Les Ententes" all over Sénégal. They are also developing a training for young couples in order to inform about good practices in agriculture, livestock farming, cheese production... The training will last 1 year and its aim is to boost agriculture.
Tipo de trabajo Since this workcamp is an immersion in a small agricultural village, volunteers will take part in the daily life of the inhabitants (agriculture, cooking...) and will be free to organize projects within the community: activities with children, visits.... The rhythm of the days can be slow and volunteers don't have to expect days full of activities. The point is to slow down and to live like Senegalese people. They will be able to visit the training center that is in developement yet.
Tema de estudio: Food Sovereignty and learning about the culture of Senegal.
Alojamiento: Volunteers will be hosted in families. Each family will only provide accommodation for one volunteer. To their request, volunteers could be accomodated together.
Idioma: French in order to speak with local people (some of them speak only local languages- often children and youth can help for translation).
Requisitos: This project requires self-reliance from the volunteers since they will stay in families, and not within a group of volunteers. It's also very important that the volunteers arrive in Dakar 1 to 2 days before the first day of the camp. In Dakar, an orientation day will be organized by the partner (organization) and then all the volunteers will be driven to the different villages.
Ubicación In a village belonging to one section of Les Ententes: Koupentoum.