Datos del campo de trabajo
VILA ArtFest - celebrating cultural diversity through art I
Temática:
12: Art, culture and local history
Opciones:
Campos para todas las edades
Work Types:
Arte / Festival / Patrimonio cultural
Número de voluntarios:
10
Plazas disponibles para hombres:
3
Plazas disponibles para mujeres:
0
Free places last update:
29 Abr 2019
Edad proyectos internacionales
18 - 40
Edad para proyectos nacionales
18 - 40
Idioma solicitado a los voluntarios
Inglés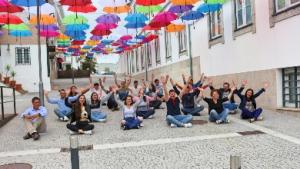 Descripción: VILA ArtFest is a celebration of all types of art worked and explored by the people from the youngest village in Portugal - Lousada. Every year in June, the city hall promotes the sharing and demonstration of different types of art: performative, urban, music, visual and photography. During this month, the local artists can share their work with the local and tourists. This year, VILA ArtFest wants to go further and challenge new artists from other communities and nationalities to create and celebrate different kinds of art.
Tipo de trabajo The volunteers will join the festival committee to organize, publicize and engage the community in the event. They will help during the event with logistics, set-up, and general support. Volunteers will have the opportunity to create a street art wall and help a local artist with a sculpture made of trash and recycled material.
Tema de estudio: - Trekking through "Rota do Românico" and "Rota do Gourmet" – both paths are humanity's cultural heritage by UNESCO
Visit Porto, the second biggest city in Portugal - also humanity's cultural heritage by UNESCO
Share one activities day with elderly local people
Typical Portuguese cultural night with local associations
Alojamiento: Volunteers will sleep all together in a dormitory at Lousada's sport complex. You can find more about that infrastructure here: www.cm-lousada.pt/pt/complexodesportivo
Idioma: English, Spanish and Portuguese
Requisitos: Volunteers should bring: sleeping bag, swimsuit, towels, comfortable clothes for work activities, walking shoes, personal medication (if needed), raincoats (impermeable, hat), backpack.
Ubicación Lousada, Portugal
Organization Description: Para Onde is a Lisbon-based organization that is mainly focused on promoting social inclusion through volunteering. It was born in 2014 as an informative website and, at the end of 2016, it became an active NGO. Para Onde will allow everyone to have the experience to volunteer abroad despite age, budget and professional background/experience. Suitable training will be guaranteed to all those departing on an experience with SCI International.