Datos del campo de trabajo
LIFE IN COLOR: face-painting in Siberia -1
Temática:
7: Children and youth
Work Types:
Arte / Trabajo con niños/as
Number of places still available:
0
Free places last update:
24 May 2019
Edad proyectos internacionales
18 - 99
Edad para proyectos nacionales
18 - 99
Idioma solicitado a los voluntarios
Inglés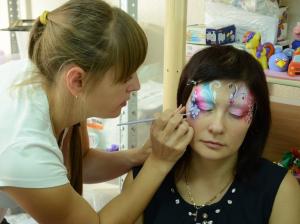 Descripción: The host organization is a young creative community, whose main interest is body- and face-painting. The initiative group participates in different social projects in Krasnoyarsk. Members of the community stand on development of their horizons and always learning something new. The hosts invite international participants interested in face-painting art and in language exchange. There are two locations and two parts of the program respectively: from 28 may to 20 June in Krasnoyarsk, from 20 June to 1 July in St. Petersburg. If you prefer, it's possible to participate in the first part of the program in Krasnoyarsk only. It's not possible to take part just in St. Petersburg.
Tipo de trabajo Volunteers will conduct art classes, cultural evenings, children's workshops for members and guests of the organization. In addition, after the finishing a training, they will be involved in the organization of events with children. All materials and tools will be provided, but you are welcome to bring your ideas!
Tema de estudio: Participants will exchange experience and learn about new trends in art and creative projects. It's also a great opportunity for cultural exchange and language practice. Volunteers can visit some local see sights, such as National Reserve "Stolby" and cultural places of the Krasnoyarsk city and locality. And of course a broad leisure program wait for participants in St. Petersburg, the capital of culture in Russia!
Alojamiento: Members of the organization will be glad to host volunteers in their families. It's possible place of residence may change during the project. Food will be provided in families. Also volunteers will have a dinner at the city restaurants and cafes.
Requisitos: Creative, open-minded and active volunteers are warmly welcome!
Ubicación The project will be held in Krasnoyarsk and St. Petersburg. All participants of the project will be met at the airport and delivered to the place of residence.
Notas: Please note that volunteers will pay for their transport in city (around 20 euros for month in Krasnoyarsk) and flight from Krasnoyarsk to St. Petersburg. It's highly recommended to buy those plane tickets in advance.
Organization Description: Non-governmental and non-profit making organisation "Passage-Zebra" is active in Russia since 1998. Main fields of activities: international workcamps (in Russia), long-term volunteering in natural preserves and parks, study projects with language learning and teaching (including Russian language), building cultural bridges.