Datos del campo de trabajo
Life painting and beautification for Sanjiao Village
Este campo es un campo de solidaridad Norte-Sur. Los voluntarios deben tener 20 añops cumplidos el día de comienzo del campo y participar en un ciclo de formación organizado por Servicio Civil Internacional. Más detalles en la pagina www.ongsci.org

Camp code:
TW-VYA 12.1908
País:
Taiwan, Republic of China
Temática:
12: Art, culture and local history
Work Types:
Arte / Mediambiente / Restauración, renovación
Plazas disponibles para hombres:
0
Plazas disponibles para mujeres:
0
Free places last update:
10 Jul 2019
Edad proyectos internacionales
18 - 99
Edad para proyectos nacionales
16 - 99
Idioma solicitado a los voluntarios
Inglés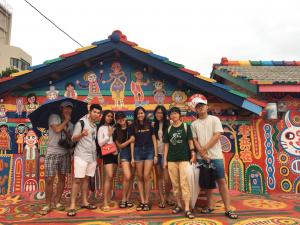 Descripción: Through the power of international volunteers, in addition to opening up the old vision of the community, we must accompany community partners to share international dinners and activities, so that small communities can also have new energy injection, and most importantly, attract more local young people. People return to their hometowns and tourists to get to know the community, develop community tourism image and residents' new horizons and regenerative capabilities. I think there are still new possibilities in this old-fashioned community.
Tipo de trabajo 1. Create more community ideology by sharing the kitchen with the community.
Make the basic equipment of the community activity center more perfect.
Through the construction of interaction, I hope to have more topics and possibilities near the old and the young.
The old community should be able to work with more people through activation and reorganization.
Alojamiento: The accommodation location is currently located in the middle of the field. It will be mainly used for camping on the grass. It is necessary to bring your own sleeping bag. Part of the diet is mainly composed of community mothers taking turns preparing and sharing dinner internationally.
Idioma: Chinese Mandarin
Requisitos: If you have a painting experience or expertise in volunteering, we very much welcome you to lead community partners in creating beautiful homes.
Ubicación This place is located in Taichung City, Taiwan, and the triangular community of Shengang District, adjacent to Taichung City.
Google Map: 田中間豬室繪社 No. 18, Lane 102 Zhongxing Road, Shengang District, Taichung City