Datos del campo de trabajo
Berlin Remembers the Spanish Civil War 1936-39: Si
Temática:
12: Art, culture and local history
Work Types:
Restauración, renovación / Tema de estudio del campo
Número de voluntarios:
12
Plazas disponibles para hombres:
0
Plazas disponibles para mujeres:
0
Free places last update:
22 Ago 2019
Edad proyectos internacionales
18 - 26
Edad para proyectos nacionales
18 - 26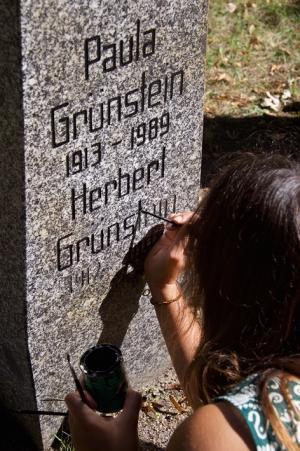 Descripción: You will work and spend your free time closely together with the KFSR (Kaempfer und Freunde der Spanischen Republik 1936-1939 e.V.), an association of Survivors of the Spanish Civil war, their children, grandchildren and their friends. The International Brigades in Spain in the time 1936-39 were supported by many nationalities and the KFSR is active to foster and cherish the memories of the volunteers from different countries, who travelled to Spain in order to fight for the Second Spanish Republic in the Spanish Civil War.
Tipo de trabajo You will work on Friedrichsfelde Central Cemetery, where, among many others, survivors of the Spanish Civil War and their families are buried. Your first task is writing down the names which can be read on the gravestones. If they are not readable anymore, you will help to clean them and to paint over the names under professional guidance.Besides the work on the cemetery, you will go on a guided tour through the Cemetery which is not only a cemetery, but also a park. You will meet and talk to descendants of former Brigadists, go on a guided antifascist city walk, have a reading and discussion with Victor Grossman and other persons. We ask you to being open to the topic.
Alojamiento: You will live at the centre in bungalows. You do not need to bring a sleeping bag with you, bed linen will be provided. There is no washing machine and only limited access to internet in the centre.You will have the chance to prepare your own meals in a small kitchen at the centre. Please bring your own recipes for our international evenings.
Idioma: eng,
Requisitos: -
Ubicación This will be decided in accordance with the groups wishes. You can use the facilities at our holiday centre to play sports (volleyball, table tennis). Of course you will be able to enjoy the sights and culture (theatres, clubs...) of Berlin and go for an excursion to Potsdam.Please be aware that the place is a bit far away from the city and it will not be possible to go to the city every day (For individual trips you have to pay yourself)