Datos del campo de trabajo
Dana Cup International Youth Football Tournament
Temática:
7: Children and youth
Work Types:
Trabajo con niños/as / Manual / Deportes
Número de voluntarios:
25
Plazas disponibles para hombres:
2
Plazas disponibles para mujeres:
4
Free places last update:
30 Jul 2019
Edad proyectos internacionales
18 - 40
Edad para proyectos nacionales
18 - 40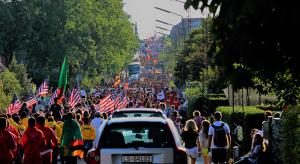 Descripción: The Dana Cup is a nonprofit organisation who runs one of the world s largest international youth soccer tournaments.Every year in the last week of July, the soccer tournament brings together around 20,000 young people between 12 and 19 years old. They come to HjErring in northern Denmark from 45 different nations and they represent 1100 football teams.Dana Cup week is a great party in HjErring.Read more about Dana Cup on this website www.danacup.com
Tipo de trabajo The Work Camp will be an Allround Assistance Team at the International Football Tournament. Work Teams tasks are many. Under competent management, the team in activity must be up to the tournament during the last days, and during the tournament there are all possible jobs. Painting of dormitories in Dana Cup Town, maintenance of outdoor areas, gardening, event creation, helping with dining of 13,000 football players. The work is expected to be arranged in two shifts in the period 08:00-20:00
Alojamiento: Sleeping facilities:Participants are sleeping in tentsLinens are provided.Shared bathrooms and laundry facilities are available.Food:Participants should not cook themselves but they will be served food. Kitchen facilities are also available. Inform in advance if you are vegetarian or have allergies.
Idioma: eng,
Requisitos: A motivational letter is required. Please write a 1/2 page about why you want to attend this work camp.
Ubicación Dana Cup Tournament is itself full of parades and activities. And in the free time the tournament area also offers many leisure experiences . With a large swimming hall, sports facilities, etc., as neighbors, it is possible to accommodate several recreational needs. The HjErring area is also known as one of Denmark s most favorite resorts. A magnificent scenery, numerous sights and an excellent beach on the Danish west coast provide many opportunities for excursions.