Datos del campo de trabajo
Green You - Green The World
Este campo es un campo de solidaridad Norte-Sur. Los voluntarios deben tener 20 añops cumplidos el día de comienzo del campo y participar en un ciclo de formación organizado por Servicio Civil Internacional. Más detalles en la pagina www.ongsci.org

Temática:
10: Environment protection
Special Topics:
Climate for Peace Programme:
Work Types:
Enseñanza / Mediambiente / Trabajo con niños/as
Número de voluntarios:
14
Plazas disponibles para hombres:
7
Plazas disponibles para mujeres:
7
Free places last update:
27 May 2019
Edad proyectos internacionales
18 - 99
Edad para proyectos nacionales
16 - 99
Costes adicionales:
175.00 Euro
Purpose of extra costs:
The extra cost is for volunteers expenses, project related expenses and support for STEP administration.
Idioma solicitado a los voluntarios
Inglés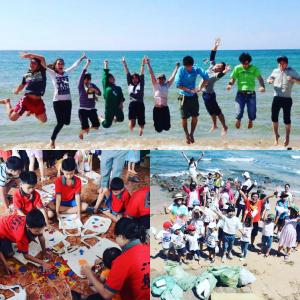 Descripción: "Green You - Green the World" is an activity with the main aim is to promote social and environmental awareness at local level, mainly in Vietnam. Our main project site is Vung Tau - famous tourist city in the south of Vietnam. Its beautiful beach is suffering from marine litter by both local and tourists. Therefore, this camp hope to help in contributing directly to environmental protection by cleaning the coastline as well as allowing participants to learn about global and local environmental issues, especially regarding ocean plastic pollution.
Tipo de trabajo For the main work, there will be two types of activities: Beach clean-up and organize activities for local kids/youths.
Volunteers will join hands with local participants to do beach clean-up.
Volunteers need to work together to create workshop/ lesson for children to increase their knowledge and share simple lifestyle practice for protecting environment. Aside from the main tasks, participants will also have chances to learn about Local Cultures and engage with each other through different fun bonding activities. At the end of the camp there will be a small event called "Environment for Peace" Day whereas we will promote Environmental Awareness, Sustainable lifestyle practice for Local people.
Tema de estudio: Environmental Issues in Vietnam & the world / Intercultural Awareness
Alojamiento: Volunteers will stay in local hostel or local homestay in Vung Tau with basic living conditions. Volunteers will be divided into team and take turn to cook.
Ubicación Vung Tau city, Vietnam
Notas: Our local partner is Chay Nhat Project. Chay Nhặt project, which is literally translated as running and picking up the trash in Vietnamese language, is a project with an objective to address plastic pollution in Vung Tau city, a well-known beach city located in the Southeast of Vietnam. As the name of project itself says, aside from running and cleaning up the ocean in Vung Tau city, Chạy Nhặt also focuses on education by hosting discussion with high school and university students on how to combat plastic pollution, and raising fund to give the tote bag to the students for free of charge so that they can reduce their reliance on using plastic bags.
Organization Description: STEP Forward Exchange (http://www.stepforwardex.com/) is a youth led group supported by SCI Hong Kong. Our missions are (1) Community Development (2) Youth Development (3) Peace Promotion. A. COMMUNITY DEVELOPMENT -Stimulate educational and economic development in the local area through the provision of educational opportunities for children. -Improve the livelihood of people from rural areas through construction and reparation of housing, library constructions, community center, ect. This will be aided by workcamp programs, which encourage international and local volunteers to fundraise and take an active role working on individual projects. B. YOUTH DEVELOPMENT/ PERSONAL DEVELOPMENT -Through experiential learning, people of all backgrounds, especially youths are encouraged to improve self-awareness, knowledge and social understanding, learn new skills, develop existing talents and utilize their potentials to achieve in order to contribute to the society. C. PEACE PROMOTION -Encourage and improve cultural awareness and understanding between local and international communities. - Provide a platform for people from different countries to develop an understanding of various cultures and customs through a collective goal.