Datos del campo de trabajo
Organizing activities for people with disabilities
País:
Belgium - French speaking
Temática:
9: People with disabilities
Opciones:
Campos adecuados para personas en sillas de ruedas
Work Types:
Trabajo con discapacitados / Social
Number of places still available:
1
Free places last update:
12 Jul 2019
Edad proyectos internacionales
18 - 99
Edad para proyectos nacionales
18 - 99
Idioma solicitado a los voluntarios
Inglés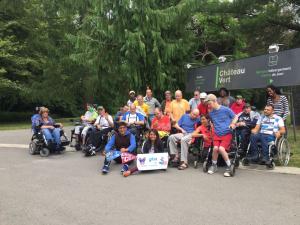 Descripción: The "Château Vert" is an institution subsidized by the AVIQ (Agency for the quality of life). It's a residential service that can accommodate about 80 residents with motor disorders that can be associated with mental retardation. Half of the residents are adults and half are children. The center is set in a big park located near the village of Solières, in the heart of the Ardennes-Condroz and it has been divided into smaller areas to allow everyone to have a family lifestyle. A project for every area of the center has been developed whose goal is to allow the residents to play a social role, and help them learn to value themselves as well as look for integration.
Tipo de trabajo Volunteers will be asked to assist the residents and educators with the activities organized by the center: workshops of dance, music, painting… They will accompany outdoor activities and they can also suggest activities according to their skills and culture (arts, crafts, food ...).
Tema de estudio: Disabilities. The members of the staff will accompany the volunteers for training and explaining any possible questions. The volunteers will also receive information about the tools they will have to use to communicate with the residents that have less communication skills: sign language, pictograms…
Alojamiento: The accommodation will be in a football club or in a school, located right next to the Château Vert. Bring your mattress and sleeping bag. Meals can be shared with the residents or within the group of volunteers (to be decided by the group).
Idioma: Knowledge in French is welcome in order to communicate with the residents of the center.
Requisitos: Be respectful and be yourself. Have interpersonal skills and ability to empathize and to get in touch with people. Some residents can have limits in verbal communication but you will become attached to the resident quickly and live a very beautiful and rewarding human experience.
Ubicación Solières is a village in the area of "Les Ardennes", close to the small city of Huy, 45 km away from the city of Liège and 100 km away from Brussels.
Notas: Accessible to wheelchairs but accommodation in basic conditions. .