Datos del campo de trabajo
Discovering Mesopotamia As A Volunteer
Temática:
3: International solidarity
Work Types:
Patrimonio cultural / Trabajo por la paz / Tema de estudio del campo
Número de voluntarios:
16
Number of places still available:
16
Free places last update:
23 Mar 2019
Edad proyectos internacionales
18 - 99
Edad para proyectos nacionales
18 - 99
Costes adicionales:
150.00 Euro
Breakdown:
Accommodation and food: 0.00 Euro
Transportation: 0.00 Euro
Activities: 0.00 Euro
Hosting organisation support: 150 Euro
Purpose of extra costs:
Accommodation, food, local transport etc.
Idioma solicitado a los voluntarios
Inglés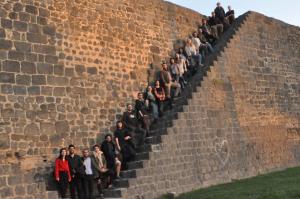 Descripción: As Youth and Change Association, we have been organizing variety of training courses, seminars, international exchange projects, work camps in order to make young people to be 'active citizens and actors' in the future. However, we have hosted more than 700 foreign young people during our 10 years work and we have sent more local young people to the international projects ( www.genclikvedegisim.com). As an outcome of our experiences from international work camps, we saw that many people want to participate in our works not only because they want to do voluntary work but also they want to know more about Mesopotamia and situation here. That's why, we have tried to combine voluntary works with intellectual inputs about Mesopotamia and we planned our 12 days work camp based on this reality.
Tipo de trabajo We are planning to focus on these subjects: Cultural Heritage, UNESCO and Diyarbakir, Working in the field and Discovering the city, Women Power in Mesopotamia, Visiting women centers and Planning a future cooperation with them, Youth Rights and Situation of young people in the region, Sharing experiences and discussing about the situations, Role of Media and Meetings/Debates with local journalists, Visiting local municipalities and Observing practices of pro-Kurdish municipalities, Input and Discussions about Ecological Society and working in the field for 1 day, Situation of Children in Sur and 2 days of volunteering activities for children (language practices, traditional street games and photography workshops etc). We will also be flexible for the ideas of the volunteers.
Tema de estudio: Cultural Heritage, Solidarity, Peace, Study and Discussion.
Alojamiento: Volunteers will stay in the guest house of our association (we can host till 40 people there) and Sur is only 10 minutes far (by walk) from our place. We have few rooms and volunteers will decide where they would like to sleep (together or separated). Meals will be prepared by volunteers and local volunteers together and products will be provided by the hosting organization. The guest house is in the old town of Diyarbakir and also quite closes the city center.
Idioma: English
Ubicación Diyarbakir / Kurdish Region of Turkey (Southeastern part)