Datos del campo de trabajo
Join BASIDA Navahondilla, a social rehabilitation center
Temática:
5: Poverty and social injustice
Número de voluntarios:
10
Plazas disponibles para hombres:
2
Plazas disponibles para mujeres:
2
Free places last update:
06 Ago 2019
Edad proyectos internacionales
22 - 99
Edad para proyectos nacionales
22 - 99
Costes adicionales:
0.00 Euro
Idiomas del campo
Español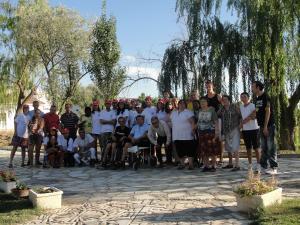 Descripción: BASIDA is an NGO that provides medical and psychosocial support to HIV-positives and drug dependent persons. Since 1987, it has opened three centres, all of them run by a multi-professional voluntary staff. Physical and psychological recovery as well as social rehabilitation of Basida residents is progresivelly achieved thanks to close teamwork focused on proving them that someone really cares for them. Basida team tries to help those attending the centre, that for long time have experienced social exclusion, to regain hope and self-esteem.
Tipo de trabajo Participating in the everyday life of the Centre, mainly giving a hand with the maintenance of the place (cooking, doing the laundry, cleaning, helping with the carpentry or gardening on a rota basis, etc.). Personal care of residents who might need it (such as helping out to get dressed) is also a possible task, but only if you really feel prepared for doing it. An important part of your stay will be socializing with the community of the centre.
Tema de estudio: A workshop on drugs and HIV, socio-medical approach: "Guide to abilities of care and relation with HIV-AIDS patients", is organised during the first week.
Alojamiento: In the Centre there are rooms with beds for the volunteers. Meals will be taken with the residents in the common dining-room.
Idioma: Spanish: a minimum level is required.
Requisitos: Acceptance is subject to previous interview. Motivation and experience regarding to social work with excluded collectives or in a therapeutic community will be a plus. Any kind of drugs is strictly forbidden inside the Centre (including alcohol and cigarettes)!
Ubicación Navahondilla, a small village between Madrid and Ávila
Notas: It is a good idea to bring photos, music or any material which might enable you to present yourself and where you are coming from. It will be rare for them to speak other languages than Spanish. Therefore good knowledge of it is very recommended.