Datos del campo de trabajo
Garden Gathering Festival for Women
País:
Hong Kong, Special Administrative Region of China
Temática:
13: Community life
Work Types:
Festival / Trabajo con niños/as / Trabajo por la paz
Plazas disponibles para hombres:
0
Plazas disponibles para mujeres:
2
Free places last update:
09 Sep 2019
Edad proyectos internacionales
18 - 99
Edad para proyectos nacionales
16 - 99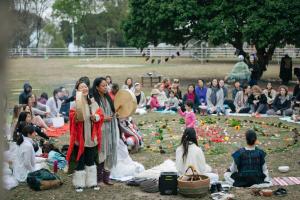 Descripción: This is a three-day overnight camping festival for women and children taking place in natural surroundings at the Sai Yuen Farm on Cheng Chau Island in Hong Kong. We need female volunteers to help with logistical arrangements of the festival.
From the beginning of time, women have gathered, danced, sung and shared skills of ceremony and medicine. Women in Hong Kong come together for the fifth gathering, each of like-mind and heart, to honour these ways which nurtures humanity and restores balance within our relationship to Mother Earth. For more information visit www.thegardengathering.com
Tipo de trabajo Help in all areas of the festival arrangements including assist in logistical arrangements, help in the kids zone, help at the reception, flower arrangements and help in the kitchen.
Tema de estudio: Women's empowerment
Alojamiento: Accommodation will be provided at the campsite in shared tents and three nights will be in town with host families.
Idioma: English
Organization Description: SCI Hong Kong, China is the Chinese group of Service Civil International. It was accepted as a group by the International Executive Committee in 2011.