Este campo es un campo de solidaridad Norte-Sur. Los voluntarios deben tener 20 añops cumplidos el día de comienzo del campo y participar en un ciclo de formación organizado por Servicio Civil Internacional. Más detalles en la pagina www.ongsci.org

Camp code:
ID-PKB 12.2001
Temática:
12: Art, culture and local history
Opciones:
Campos para todas las edades
Work Types:
Patrimonio cultural / Trabajo con niños/as / Idioma de estudio
Número de voluntarios:
12
Plazas disponibles para hombres:
6
Plazas disponibles para mujeres:
6
Free places last update:
03 Dic 2019
Edad proyectos internacionales
18 - 99
Edad para proyectos nacionales
16 - 99
Costes adicionales:
3600000.00 Indonesian Rupiah [207 Euro]
Breakdown:
Accommodation and food: 0.00 Indonesian Rupiah
Transportation: 0.00 Indonesian Rupiah
Activities: 0.00 Indonesian Rupiah
Hosting organisation support: 3600000 Indonesian Rupiah
Purpose of extra costs:
The cost will cover the accomodation, Food, Material of the project, IIWC-Tshirt and Certificate of participation.
Idioma solicitado a los voluntarios
Inglés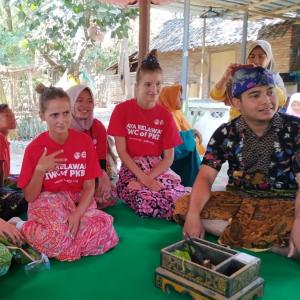 Descripción: IIWC of PKBI work together with one of the mother organization's branch (IPPA West Nusa Tenggara). Sengkoah Village is located on the border of Lombok Tengah regency, West Nusa Tenggara. This new village officially became one of the tourist villages in Lombok. Sengkoah Village became tourist village which can be said to be new and managed to be the winner of the best custom village in West Nusa Tenggara . The village has social and cultural potential. The village was built with the aim of eliminating the exploitation of children where children in the village were taught how to preserve their own culture. , they build this village into a child-friendly tourist village. where the villagers and children are productive by joining some activity that arrange by local community.
Tipo de trabajo Help and learn together with community in guiding their child to learn about the culture, manage English classes for children, youth and local communities, conducting activities with the village community, intercultural learning, help local people promoting their village culture with their own social media, learn about Sasak culture in the view of the surrounding community.
Alojamiento: Volunteer will stay with host family with shared toilet and bathroom. Sleeping bag is needed, food will be provided three times a day, and self management.
Idioma: English
Requisitos: We do expecting that volunteers are open minded, tolerant, respect the local custom and culture, love to learn and share.
Ubicación Sengkoah-Labulia Village, Jonggat Municipality, Central Lombok Regency, West Nusa Tenggara, Indonesia
Notas: The project will take place in small village which all the villagers are family to each other. During leisure time, volunteers can visit beautiful hill nearby the camp site. Besides, Lombok island is also famous of its wonderful beaches that volunteers can visit.
Organization Description: IIWC (Indonesian International Work Camp) is one of PKBI (Eng: Indonesia Planned Parenthood Association) program who deal with IVS movement since 1999.