Youth for Nature - Wienerwald & Donau-Auen Volunteers
Temática:
10: Environment protection
Número de voluntarios:
12
Plazas disponibles para hombres:
1
Plazas disponibles para mujeres:
2
Free places last update:
02 Ago 2020
Edad proyectos internacionales
18 - 65
Edad para proyectos nacionales
16 - 99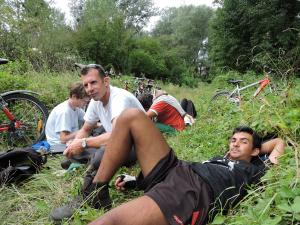 Descripción: The two local partners are the management of the Biosphere Reserve Wienerwald and the authorities of the Donau-Auen National Park. Both are in charge of the protection and eco-logical development of their respective regions, each with its particular biodiversity. Some areas need ongoing management to form sustainable habitats for rare species such as meadows or dry grassland. The managements of national parks and biosphere reserves also lay great emphasis on environmental education and visitor management.
This International Volunteer Camp is hosted by the SCI Austria, a national branch of a net-work of international volunteer exchange associations.
Tipo de trabajo Dry grasslands form a rare and endangered habitat in the Biosphere Reserve Wienerwald. We will cut grass, bushes and trees, and remove the biomass from the areas to suppress the beginning of forest growth. In the wetlands of the Donau-Auen National Park we will selectively eliminate invasive alien plant species to support the native flora. We will also cut free little oak trees and manage areas between woods and meadows. Our goal is to conserve and enhance biodiversity in unique and rare habitats. This camp contributes to the Natura 2000-region objectives.
Tema de estudio: You will gather knowledge of local habitats with their flora and fauna as well as their mandatory management, including the challenges faced. Furthermore, you will gain hands-on experience in maintaining dry grasslands and managing invasive species.
Alojamiento: During your week in the Biosphere Reserve Wienerwald you will be accommodated in a hostel in Hütteldorf (Vienna). You also will get breakfast there and you will get a packed lunch as well. We will have dinner at local restaurants. We will stay in bedrooms for either three or four persons with either private or shared bathrooms. There is also free WIFI, a washing machine and a dryer available. If you suffer from allergies or have special food requests (e.g. vegetarian, no pork), please let us know in advance!
Requisitos: We will work four days a week from about 8.00 a.m. to 5.00 p.m. for six hours a day with breaks in between. We will be in steep terrain, on hot days, on rainy days etc. Therefore, some basic fitness as well as solid ankle-high hiking boots are required. Before you sign up for this camp PLEASE make sure that you are healthy enough to participate. What is more, please send us a motivation letter.
Ubicación Situated between the European capital Vienna and Bratislava, the Donau-Auen National Park preserves the last remaining major wetlands environment in Central Europe. Here, the Danube is still free flowing and there is the lifeline of the National Park. In the Biosphere Reserve Wienerwald is a wide range of wooded hills alternates with vast meadows, pastures and orchards as well as vineyards and dry grasslands - the result of centuries of human cultivation.
Notas: During our time in Donau-Auen National Park we will stay at the Nationalpark-Camp Meierhof next to the castle of Eckartsau. We will sleep in big tents and therefore you will need a sleeping bag and perhaps a camping mat. In the camp there is also a house that contains common areas, kitchen, toilets and showers.
Organization Description: SCI Austria is the Austrian branch of Service Civil International, founded in 1947 and based in Vienna. We are mainly volunteers who have been on international workcamps ourselves and who want to organize meaningful and critical projects in our country as well.