Camp code:
JP-NIC 13.1903021
Topic:
13: Community life
Free places for Females:
1
Free places last update:
30 Jan 2019
International age:
18 - 99
Extra fee to be paid in the hosting country:
0.00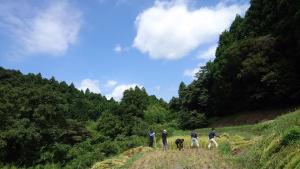 Description: This project has been organized with Association for Activating Hiratsuka area (AAH) since 2017. AAH is formed by local farmers with the aim of utilization local resources to increase the attractiveness of Hiratsuka area by maintaining the hiking trail and helping to organize local events and so on. AAH also has cooperated with Tennen-mura for revival of abandoned farmland such as traditional terraced rice fields. Tennen-mura (means 'Natural Village') is an institution providing city people opportunities and accommodation to experience of farming and country life. They need power of young international volunteers for vitalizing the aging community.
Type of Work: Volunteers will help local farmers to take care of terraced rice fields before the season of rice planting. Volunteers will also help cutting the grass in the abandoned farm, making traditional bamboo charcoal, and organize some local events. The contents of work will be changed due to weather, please be flexible!
Study Theme: Volunteers will get knowledge about agriculture of terraced rice fields.
Accommodation: Volunteers will stay in a house made of natural wood. Shared room. Meals will be cooked by volunteers by turns. Sleeping bag is NOT needed.
Language: English (Japanese is also welcomed!)
Requirements: Interested in Japanese agriculture, positive attitude to work outside and cooperativeness.
Approximate Location: Kamogawa city is located in southern Chiba pref. It takes only 2 hours from the central Tokyo by bus, however, you can enjoy its rich nature such as beautiful coastline and terraced rice fields.
Notes: Other activities: Cultural exchange party with local people, hiking, and sightseeing in city.