This project is part of the SCI North South Programmes. Volunteers should be 20 years old, have previous volunteering experience and take part in the Preparation Workshops organised by their sending branch. More details from your sending branch.

Topic:
4: Peace and disarmament
Special Topics:
No more war!
Work Types:
Teaching / Festival / Peace
Free places for Females:
5
Free places last update:
08 Feb 2019
International age:
18 - 99
Extra fee to be paid in the hosting country:
250.00 Euro
Breakdown:
Accommodation and food: 0.00 Euro
Transportation: 0.00 Euro
Activities: 0.00 Euro
Hosting organisation support: 250 Euro
Purpose of extra costs:
Preparations, Feeding, Accommodation, On-arrival orientation, Evaluations, Mobility to the Camp site and maintenance of volunteers in the project
Required Language:
English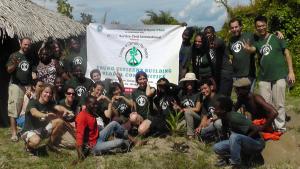 Description: The current social context, in the world at lager is dominated by frequent conflicts, refugee crisis, extremism, poverty and social exclusion. This project means to offer an opportunity for young people, activists and volunteers belonging to the IVS movement to concretely develop a practice, organized rally, mobilizing local groups and non-formal activities to raise awareness in the area of Peace and Human Rights. Thus focusing on Human Rights activism, advocacy and global peace education, VWAN will carry out a non-formal workcamp to address the issue of peace among young people and elderly group within the local community. It will also afford the volunteers to develop a practical approach to develop skills in coordinating workshops, leading debates and sharing information.
Type of Work: Volunteers will join with local group to carry out awareness campaigns on Peace Actions, social inclusion and rights of youth on development through formal and non-formal education. Volunteer will also visit various schools and universities with the guide of local participants to create branches or cell units for local voluntary service organization thus mobilizing them out for leadership roles. This is to address volunteers drain and attracting youths for voluntary service.
Study Theme: No More War / PEACE Rally / Raising Peace
Accommodation: Volunteers will stay together in a Social Institute reserve centre at Iperu. The facilities within the centre are basic, with shared room, shower, and kitchen.
Language: Fair knowledge of English
Requirements: As contained in the Infosheets
Approximate Location: SDI – Iperu Remo in Ogun State. About 2 kilometres to major express connecting States.
Notes: Working clothes, tents, mosquito nets, charts / books, tools and gloves, mosquito repellant lotion, sleeping bag, spread, pillow and water purifying tablets. Games like chess, playing cards and musical instruments are welcomed.