This is Palestine : Empowering the commitment to the World Heritage
This project is part of the SCI North South Programmes. Volunteers should be 20 years old, have previous volunteering experience and take part in the Preparation Workshops organised by their sending branch. More details from your sending branch.

Country:
Palestinian Territory, Occupied
Topic:
12: Art, culture and local history
Work Types:
Cultural heritage / Peace / Restoration, renovation
Number of places still available:
20
Free places last update:
29 Apr 2019
International age:
20 - 99
Extra fee to be paid in the hosting country:
300.00 Euro
Required Language:
English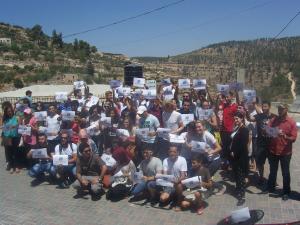 Description: This workcamp will be organized by IPYL (International Palestinian Youth League) in partnership with the Battir Landscape Eco-Museum Center. This workcamp will expose volunteers to life in the Occupied West Bank and to the importance of the protection of the World Heritage UNESCO sites in those particular circumstances.
Type of Work: In the mornings, the volunteers will do renovation work within the village of Battir (water canals, walls, water cistern) and along the old Ottoman railway. The afternoons will be dedicated to a program of educational and cultural activities (Palestinian culture and history, conflict in the region, visits of refugee camps in the area of Betlehem, meeting of different actors of the civil society and interaction with locals) in the area of Betlehem and Hebron.
Study Theme: Understanding the reality and the living conditions in the Occupied West Bank and protection of the World Heritage.
Accommodation: The volunteers will be hosted in flats in Battir village (Betlehem). The rooms wil be separate (men/women). There will be hot water and a kitchen with basic equipment where the volunteers will cook by themselves.
Language: English
Approximate Location: Betlehem and Hebron