Ce projet s'inscrit dans le cadre des programmes Nord-Sud du SCI. Les volontaires doivent avoir au moins 20 ans, une expérience de bénévolat antérieure et prendre part aux ateliers de préparation organisés par leur branche d'envoi. Plus de détails auprès de votre branche.

Camp code:
ID-PKB 10.2005
Date de début:
02 Mars 2020
Date de fin:
11 Mars 2020
Thème:
10: Protection de l'environnement
Type de travail
Environnement / Heritage Culturel / travail avec des enfants
Nombre de volontaires:
12
Places restantes pour les hommes:
6
Places restantes pour les femmes:
6
Dernière mise à jour des places libres:
03 Déc. 2019
Age des volontaires internationaux :
18 - 99
Age des volontaires nationaux :
16 - 99
Coûts supplémentaires :
2900000.00 Indonesian Rupiah [163 Euro]
Breakdown:
Accommodation and food: 0.00 Indonesian Rupiah
Transportation: 0.00 Indonesian Rupiah
Activities: 0.00 Indonesian Rupiah
Hosting organisation support: 2900000 Indonesian Rupiah
But des coûts supplémentaires:
The cost will cover the accomodation, Food, Material of the project, IIWC-Tshirt and Certificate of participation.
Lettre de motivation
Ce chantier requiert une lettre de motivation supplémentaire pour expliquer plus en détails pourquoi vous aimeriez participer.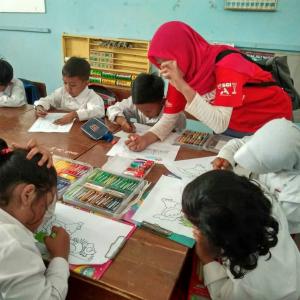 Description: Background: Gedongsongo is one of national heritage situated in Central Java. There are 5 temples in the areas and the temples and became an attractive place for holiday, especially for regional tourist. This temple also surrounding by many intangible heritage such as dance, music, and festival that should support on the temple preservation matters. But still the environment awareness, socio economic background, sanitation and hygiene of the local people need to be improved. Most of the locals are earning money from the vegetables garden. The limitation of environmental friendly awareness from the local visitor as well as the sellers, this situation left many garbage in the temple area. The increasing number of visitor each year also contributed vandalism at the temple
Type de travail: Mainly will work with local people toward their environment such as recycle garbage, introducing personal hygiene related to the environment condition, organizing additional English lesson and school visit, and playing games with children. There will be also possibilities on physical work such as cleaning the temple, renovating school, planting trees, gardening, or making sign board/garbage bin there will be also a class fro Javanese culture like traditional dancing will be arranged.
Hébergement Volunteers will stay with host family with shared toilet and bathroom. Food will be provided by the host family 3 times a day.
Langue English
Conditions d'admission We do expecting that volunteers are open minded, tolerant, respect the local custom and culture, love to learn and share.
Localisation approximative Candi Village, Gedongsongo, Bandungan, Semarang Recency, Central Java Indonesia
Notes: The project site will be in the hill where the temple is located. The temperature will be quite cold during morning and night. During leisure time, volunteers can visit another beautiful spot nearby the temple of just have a chill time in cafe or restaurant.
Description de l'organisation IIWC (Indonesian International Work Camp) is one of PKBI (Eng: Indonesia Planned Parenthood Association) program who deal with IVS movement since 1999.