Archeology in the island of Mallorca
Dates à confirmer - Candidater ultérieurement

Date de début:
31 Mai 2020
Date de fin:
13 Juin 2020
Thème:
12: Art, culture et histoire locale
Type de travail
Archeologie / Heritage Culturel / Manuel
Nombre de volontaires:
10
Nombre de places encore disponibles:
10
Age des volontaires internationaux :
18 - 99
Age des volontaires nationaux :
16 - 99
Lettre de motivation
Ce chantier requiert une lettre de motivation supplémentaire pour expliquer plus en détails pourquoi vous aimeriez participer.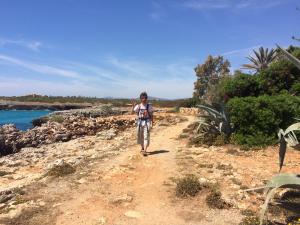 Description: Volunteers will participate in an archaeological dig which forms part of a wider project aiming to use archaeology and local history to preserve and promote heritage and culture to the local community and to international volunteers.
Type de travail: Work involves preservation of an archaeological site, cleaning the ruins, facilitating access to the site by clearing land and making paths (by moving rocks, cutting bushes, etc) and work with the findings in the laboratory (washing and cataloging pottery and bones). All work will be done under the supervision of qualified archaeologists. Working hours: in the morning from 8 am to 1 pm and maybe some afternoons from 4 pm to 6 pm.
Thèmes de reflexion / d'études : Archaeological heritage and how it brings communities together. Several educational and cultural activities will be held.
Hébergement Volunteers will sleep in a reformed monastery in triple and double rooms with good modern facilities. Please bring your own sleeping bag. Food will be provided by local hotels and volunteers will prepare their own breakfast with food provided. Special diets can be accommodated.
Langue English
Localisation  Ajuntament de Son Servera, Mallorca
Notes: It may happen that the workcamp will take place later than the provided dates. To be confirmed. The local organization makes a big effort to make volunteers involved on the local culture, so there are several activities planned with that goal: cultural tours, visits to natural sites, participation on village festivals, intercultural meals with the residents, outdoors film projection, etc. Volunteers are supposed to arrive on the first day of the camp and leave on the last day of the camp. camp.
Description de l'organisation SCI Catalunya is the Catalan branch of SCI, one of the 2 SCI branches in Spain. We are based in Barcelona and our working area covers the Catalan countries (including Catalonia, Valencia, the Balearic Islands and Andorra). The other provinces of Spain are covered by SCI Madrid. SCI was founded in 1982 and he organization works on both a global and local level. On the global level, we organize international workcamps in the above mentioned territory Long Term Voluntary Projects (including EVS), trainings and seminars. . On the local level, we work to promote peaceful social transformation of society in order to encourage sustainable human development and a culture of peace, through volunteer groups, involving our community and local networks.