Pita Escuela - Environmental Arts Education Camp
Date de début:
20 Sept. 2020
Date de fin:
03 Oct. 2020
Thème:
11: Climat et mode de vie durable
Options:
Chantier "âge mixte"
Type de travail
Agriculture / Art / Environnement
Nombre de places encore disponibles:
3
Dernière mise à jour des places libres:
10 Sept. 2020
Age des volontaires internationaux :
21 - 99
Age des volontaires nationaux :
21 - 99
Coûts supplémentaires :
104.00 Euro
Breakdown:
Accommodation and food: 104.00 Euro
Transportation: 0.00 Euro
Activities: 0.00 Euro
Hosting organisation support: 0 Euro
But des coûts supplémentaires:
8 euros a day for food and logistics
Lettre de motivation
Ce chantier requiert une lettre de motivation supplémentaire pour expliquer plus en détails pourquoi vous aimeriez participer.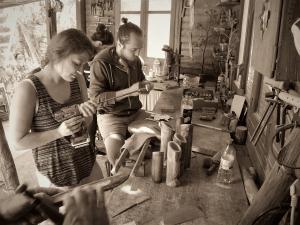 Description: We are an Environmental Education Center based on artistic creation combined with experiences of nature, sustainable development and music. We teach a respectful way of life, giving an example of a self-sufficient house that has artistic spaces and a music studio surrounded by pure nature.
Declared by the Andalusian Government as an Artisan Association, the Pita Escuela is located in a unique ecosystem, an oasis in the heart of the Almería desert. The Association was founded in 2011 by the German Tim Bernhardt who has lived in Almería for more than 25 years. Tim is a professional craftsman, multi-instrumentalist, innovator, manufacturer of musical instruments and pioneer in specialising in the full use of Pita wood (Agave).
Type de travail: This volunteering opportunity was born out of the need to carry out a continuous production where we will share our extensive knowledge in the creation of musical instruments and crafts made with Agave (Pita) wood. We are looking for motivated people to create these products, welcoming a desire to grow, learn, share and explore. We will form a dynamic and communal working group, in which we are all responsible for daily tasks. Professional craftsman Tim Bernhardt will give an introduction to the various tools, manufacturing methods, and natural treatments he uses in his unique craft. We will discuss the botany of the Agave, knowing its survival tricks and the incredible variety of uses of this sustainable desert resource.
Thèmes de reflexion / d'études : We will learn the about the problems caused by the over-exploitation of the aquifers in the area - ecocide. We will take the group on a small excursion to highlight the uniqueness of the powerful ecosystem of the natural area where our project is located. On this tour, we immerse ourselves in the geology of the place, its endemic flora and fauna and the exciting history of this sustainable village that has a gallery of archaeological interest where a historic ditch, that was built by Roman slaves in ancient times, makes its journey from the source of the Río Aguas...
Hébergement Self-sufficient house with living room, 3 bedrooms and one large bathroom.
Langue English, Español, Deutsch
Conditions d'admission It would be good if the volunteer knows how to work with Wood. Team work is essential!
Localisation approximative Los Molinos del Río Aguas, Paraje Natural 'Karst en Yesos de Sorbas' (Almería).