Lung Jaeng Garden Workcamp (Gardening and community life learning)
This project is part of the SCI North South Programmes. Volunteers should be 20 years old, have previous volunteering experience and take part in the Preparation Workshops organised by their sending branch. More details from your sending branch.

Camp code:
TH-DA 13.630802
Topic:
13: Community life
Work Types:
Agriculture / Construction
Free places for Females:
7
Free places last update:
2020 Apr 21
International age:
18 - 99
Extra fee to be paid in the hosting country:
8000.00 Thai Baht [1951 Hong Kong Dollar]
Breakdown:
Accommodation and food: 0.00 Thai Baht
Transportation: 0.00 Thai Baht
Activities: 0.00 Thai Baht
Hosting organisation support: 8000 Thai Baht
Purpose of extra costs:
The participation fee is requested to pay to Dalaa for food, accommodation, and other project related expenses. Therefore, the fees are for the preparation of workcamps.
Required Language:
English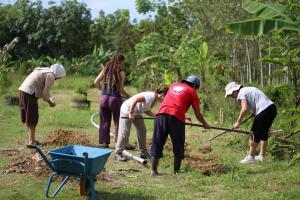 Description: Kok Riang is the name of the village our organization office is situated in South Thailand. We are kindly hosted on the land of Lung Jaeng, a great life activist who also welcomes volunteers since 2013 through DaLaa to support his social and non-chemical garden 3 km away. Volunteers will mainly join gardening work with Lung Jaeng and will be included in our member activities.
Type of Work: Regular work involves nurturing vegetable plants and fruit trees, take care or chicken, compost making, collecting vegetables for our own consumption, growing seeds or nursing young plants, lots of weeding and watering too. The work may be physically hard or repetitive.
Accommodation: Volunteers will live with Lung Jaeng in the garden. Small huts are provided for volunteers. There is the new house of Lung Jaeng and a wood fire kitchen. Regards to the hut for volunteers, there is a thin mattress and mosquito net provided. You may need to bring your own soft mattress if you're prone to backache or wouldn't be able to sleep on a hard surfaces. The bathroom and toilet are separated.
Language: English
Requirements: - Volunteers should be ready to put their hands in the dirt for gardening.
Volunteers should be able to stay in a remote environment, without public transport, not expecting to go to a town or city often.
Volunteers should be ready to adapt to the Thai, local way of life, and willing to create relationships with volunteers' friends, hosts, and local people.
Approximate Location: 15/2 Moo 3, T. KokMuang A. Klong Hoy Khong Songkhla 90230 Thailand