Topic:
12: Art, culture and local history
Work Types:
Restoration, renovation
Free places for Females:
6
Free places last update:
2021 Mar 31
International age:
18 - 26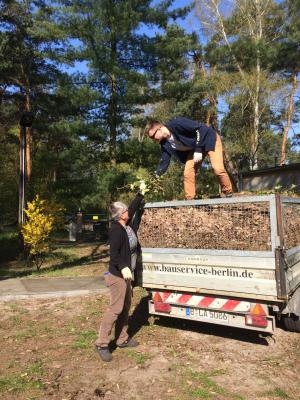 Description: https://www.vjf.de/The Young Volunteers Association was founded on March 3, 1990. As an independent, non-denominational and non-partisan (NGO) association, it is accredited as a carrier of free youth welfare and recognized as a non-profit organization.According to the statutes (as of September 17, 2011) (the VJF) sees itself as a community of people who are connected to the solidarity and humanistic ideals of the international volunteer movement. In its actions it is guided both by the universal charter of the international voluntary service and by the aims of the European network of voluntary service organizations. The Association of Young Volunteers (VJF) supports itself and the organized youth projects in principle on three pillars or main topics: International Voluntary Service (IVS), Voluntary Ecological Year (FEiJ) and Project and amp; Meeting Center (PBS).
Type of Work: During this camp we will continue the work of the spring-camp, which runs in April. We still need to prepare our centre for the next workcamp season. It needs cleaning works like raking dead leaves, cleaning the yard or piling up the leaves. Other small tasks during the camp may include maintaining or renovation works inside and outside.
Accommodation: Accommodation: You will live at the centre in bungalows. You wont bring a sleeping bag with you, bed linen will be provided. There is no washing machine and only limited internet access in the centre.Food: You will have the chance to prepare your own meals in a small kitchen at the centre. Please bring your own recipes for our international evenings.
Language: eng,
Requirements: -
Approximate Location: Area: You will live in our Projekt- und BegegnungsstEtte. This is the meeting and project centre of the Vereinigung Junger Freiwilliger e.V./ VJF (Union of Young Volunteers). It is situated in a forest on the banks of the lake Langer See in Berlin. Its a quiet place, a bit far from the centre of Berlin (but there are good public transport connections). The centre is used as accommodation for different groups of young people and a sort of holiday resort for school classes.www.gruppenhaus.de/projekt-u.-begegnungsstaette-der-vjf-e.v.-berlin-hs1250.htmlLeisure Time: This will be decided in accordance with the groups wishes. You can use the facilities at our holiday centre to play sports (volleyball, table tennis). Of course you will be able to enjoy the sights and culture (theatres, clubs...) of Berlin and go for an excursion to Potsdam.