Garden Gathering Festival for Women
Ország:
Hong Kong, Special Administrative Region of China
Munka típusok:
Fesztivál / Béke / Szociális
Utolsó frissítés szerinti szabad helyek
2018 Dec 03
Nemzetközi önkéntesek korhatára
18 - 99
Helyi jelentkezők korhatára
16 - 99
Extra költségek, melyeket a tábor helyszínén kell fizetni:
0.00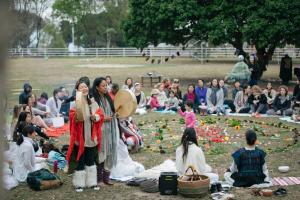 Leírás: This is a three-day overnight gathering for women and children taking place in natural surroundings at the Sai Yeun Farm on Cheng Chau Island in Hong Kong. We need female volunteers to help with logistical arrangements of the festival.
From the beginning of time, women have gathered, danced, sung and shared skills of ceremony and medicine. Women in Hong Kong come together for the forth gathering, each of like-mind and heart, to honour these ways which nurtures humanity and restores balance within our relationship to Mother Earth.
Munka típusa Assist in logistical arrangements and help in the kitchen.
Képzés: Women's empowerment
Szállás: Accommodation will be provided at the campsite in shared tents and two nights will be in town with host families.
Nyelv: English
Szervezet Leírása SCI Hong Kong, China is the Chinese group of Service Civil International. It was accepted as a group by the International Executive Committee in 2011.